Palm-patterned wallpaper, a golden pineapple and pink flamingos often flutter through our interiors like butterflies through a summer meadow. They remind us that tropical kitsch interiors aren't some fleeting trend, but a lasting phenomenon.
Like it or loathe it
It's received wisdom that the German word 'kitsch' was first uttered towards the end of the 19th century near Munich. Its precise origins and meaning are unclear, but it could come from the southern German term 'verkitschen', which means quickly selling off cheap products that nobody needs. These days, the word kitsch is used throughout the Western World, and the onomatopoeic 'bling bling' is used even more widely to mean an overdose of bright colours, exaggerated exoticism, folk art and visual naïvete. It's not clear that we will ever truly answer the question: can kitsch be beautiful? Kitsch polarises people like pretty much nothing else. Some people steer well clear, while others associate this style with happiness, fond memories and fun times.
Kitsch, our old flame
Like it or not, kitsch is everywhere. It's in Disney films, in pop culture, in holiday souvenirs and in motorway service stations. We see it at Easter, at Christmas and on Mother's Day. Kitsch comes in forms as many and varied as life itself. There are even sub-genres such as cosy, poetic, erotic and ideological kitsch. For a long time now, two icons have been paramount: the pink flamingo and the golden pineapple, which can be used for all sorts of purposes, for example as inflatable pool mattresses, decorative objects or adornments on more functional items.
Phenomenal tropics
It turns out that combining kitsch with exotic is a firm interior favourite, with natural materials to fit the lasting fashion for bringing the outdoors indoors. Yet tropical kitsch interiors are also bang up to date, because there are no fixed rules. The look works in unobtrusive accessories – perhaps a picture of a palm tree or a small exotic object – or as an overall package, complete with wall hangings that scream 'tropical rainforest' repeated in every room. Many manufacturers such as Creative Lab Amsterdam now offer a range of wallpaper with giant motifs featuring tropical flora and fauna, for all areas of your home including the children's bedroom.
Predictably adaptable
Tropical kitsch interiors have the added bonus of being both immensely adaptable and transformative. Even individual kitsch touches can breathe life into more understated lifestyle spaces or give minimalist forms an effortless lift. Deep tropical forest green is a major player in many bestselling items, opening up great possibilities for combination with a wide variety of colours while harmonising equally well with gentle pastels as with opulent silver and gold: See, for instance, this rug by Kare Design.
Outside out
If you'd like a little Miami glamour on your balcony or garden, why not choose a touch of tropical kitsch interiors style? With palm trees, colourful tableware and exotic fruit cocktails, plus some Cuban music, you can conjure up warm summer evenings in the USA's most exotic city. Sier Disposables makes products that are not just decorative but also sustainable. This Dutch manufacturer offers a wide range of drinking straws, cutlery, containers and dishes made from natural, renewable resources.
Beautiful and evergreen
Hard to believe that a tropical kitsch dress even has its own Wikipedia page! But who can forget the moment – on 23 February 2000 – when Jennifer Lopez appeared at the Grammy Awards in that jungle-green dress cut high along the front of the legs, adorned by a rainforest of leaves. As recently as Milan Fashion Week Spring/Summer 2020, where Lopez wore an updated version of her legendary Versace dress, tropical kitsch has proved it has undeniable sex appeal.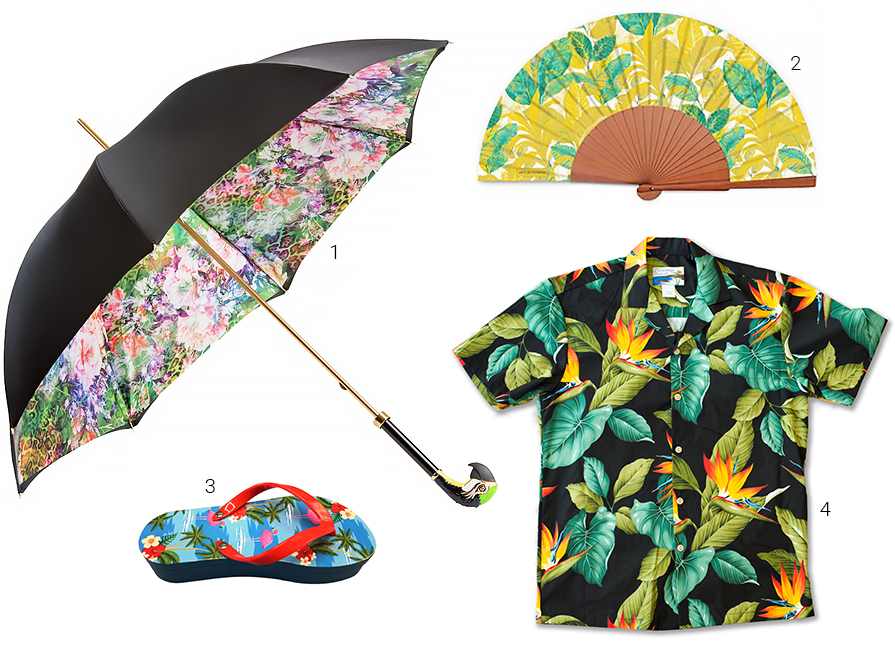 Subtle effect
How can we explain the universal hype surrounding tropical kitsch interiors? It's a mystery when people proudly bring home objects which would normally be considered aesthetically tasteless. Even if there is a golden pineapple on top of the Wimbledon Men's Singles trophy, why is this outlandishly sentimental object a firm interior favourite? The answer may lie somewhere in the meaning of kitsch itself: whatever the object, kitsch embodies feelings, sparks emotions and makes for fond memories. It's up to your friends and family's personal taste whether or not they share this sentiment. What's a hundred percent certain is: Kitsch has a firm foothold in our lives. And we like it like that.
Title: Creative Lab Amsterdam