Flour, water, salt – sophisticated simplicity is making a major comeback, especially among hobby bakers, with some manufacturers of bread making accessories recording a 300% increase in sales last year. Even people who had never made bread before started to have a go and discovered recipes on social media. This trend has resulted in a growing awareness of the authentic quality of this basic foodstuff; bread making accessories are increasingly becoming an integral part of the modern lifestyle and are boasting more new features than ever before. In this blog we show what manufacturers are offering newcomers and experienced bakers in order to serve perfectly baked bread stylishly at the table. We also look at the rise of bread in the gastronomy sector – and at bread shops that visibly display the rejuvenated spirit of bread making with a carefully staged ambience. Plus, we have some insider tips from a bread sommelier.
Bread making accessories – from the flour to the bread dough
Bread making is similar in some ways to meditating – a little reflection, relaxation and mindfulness reap rich rewards in the end. Bread making accessories that make the work easier and save time also help. Examples of these include the practical kitchen scales from Plint, the measuring cup set from Ekobo and the KitchenAid grain mill – the latter a handy attachment for the manufacturer's stylish mixer. Grinding your own fresh flour is worth the effort: The bread develops a more intense aroma, it sets better and it stays fresh longer.
Once you've kneaded the dough by hand in, for instance, the large practical mixing bowl from Fratelli Guzzini and then lifted it out with the Lares stainless steel dough card onto a silicone baking mat, it's ready for the next step. Dr. Oetker manufactures a functional mat with measurement and conversion tables – especially useful for baking novices. The Mason Cash stoneware dough roller-shaker is an all-in-one rolling pin, flour shaker and pastry measuring device that cuts down on the number of steps in the breadmaking process. Finally, the bread dough goes into the proving basket, a traditional bread making accessory, here from the manufacturer RBV Birkmann and made of rattan cane – a natural material that controls the necessary moisture levels during fermentation while at the same time allowing aeration.
Bread maker machines and high-performance accessories
Anyone who bakes bread regularly will appreciate the assistance of a high-performance food processor. And since thorough kneading is considered one of the greatest secrets of making good bread dough, the most important feature for food processors is endurance rather than sheer power. What is needed (no pun intended!) is sustained kneading – not high speeds or high wattage ratings. The Clatronic kneading machine and the retro-design Ankarsrum food processor, for example, deliver great kneading results.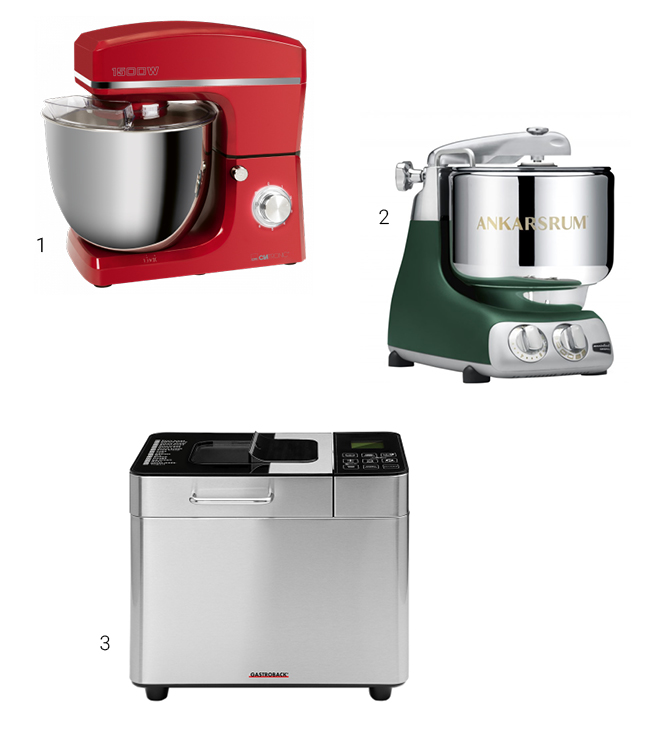 Bread maker machines are certainly not replacing the traditional art of bread making. These kitchen appliances are aimed at creative hobby bakers who want to create their own mixes: for instance, sourdough, wholemeal dough, ciabatta or bagels. It couldn't be more straightforward. The bread maker machine mixes and kneads the basic ingredients, adds other things such as nuts, seeds or chocolate chips, lets the dough prove and then bakes the bread at the perfect temperature. Thanks to the integrated timer, fresh bread can be ready just in time for breakfast. But since man (and woman) does not live by bread alone, some of these new bread makers – for instance the machine from Gastroback – can also prepare jam and creamy yoghurt.
Bread sommelier cultivates his own cornfields
Blue fenugreek – a special ingredient! For bread sommelier and breadmaking author Joerg Schmid from Gomaringen near Stuttgart, blue fenugreek from the Tyrol gives artisan bread a very special flavour. His style of working is far removed from mass production – and starts in the field itself. During our interview, the master baker looks out of the window at cornfields that he has cultivated for his own requirements. He uses predominantly single-variety flour, which is not standard practice in the industry. Because of this, the shopper can be sure that the bread is baked using grain from a single field – as with wine, a recognised sign of quality.
Mr Schmid, which single ingredient must go into a good loaf of bread?
"Sourdough, fermented for at least 24 hours! People who bake at home can probably get it from their baker. Ideally, the bread is then baked vigorously."
You belong to a new generation of bakers who are returning to the roots of the craft. Why have they been so successful?
"Today's customers want to know what goes into a staple food such as bread and then base their purchasing decisions on this information. Local production, fair wages and transport routes that are as climate-neutral as possible are factors that play into the hand of artisan bakers. I call myself a 'wild baker': In other words, I want to free the bakery trade from its dusty old image. We combine the good old artisanal craft – honest bread as it was baked 100 years ago – with new, 'wild' ideas. For instance, why shouldn't we make a handmade fancy bread, dyed black with squid ink and flavoured with jalapeno chilli?"
Craft bread – when good bread becomes an art form
"It is an art form. Creating a loaf with an optimal crumb, moist and stable texture, large pores, unobtrusive acidity and deep flavour. Plus, a crispy crust that contains smoky, roasted aromas – that all needs to be balanced," explains Christian Aeby, a former commercial filmmaker from Basel who has achieved something unusual with his Bread bakery in Hamburg. Having switched career path, his tiny shop outperformed all the professional craft bread competition in the ranking of a well-known food magazine and was awarded the title of 'Hamburg's Best Bakery'. Christian Aeby says that sourdough is unpredictable, you have to build up a loving relationship with it: "This type of bread dough needs 36 hours of proving and also reacts sensitively to air pressure and humidity." The shop design predominantly black, and the sometimes huge loaves of bread 'glow' thanks to a sophisticated lighting system. This extremely purist presentation works. "The customers like the unusual focus and high quality. It has become a meeting place with genuine conversations and a cheerful atmosphere," enthuses Aeby.
They say that you eat with your eyes first: In the new craft bread bakeries, bread is deliberately staged as an object of desire, even as an art form. Established artisan bakeries have shown the way, as a glance at the USA shows. Foremost among them is the Tartine Bakery run by legendary sourdough king Chad Robertson with shops in the artists' quarter of San Francisco, in Los Angeles and now also in Seoul. All Tartine Bakery outlets have a certain uncomplicated, communicative arty look – a mix of art gallery, bar and student café. The outlets of the Sullivan Street Bakery in New York, founded by sculptor Jim Lahey, have a similar take on presentation and the loaves in the shop are stacked to look like a sculpture.
Loaf tins – rectangular or round
Classic designs predominate when it comes to today's loaf tins. And the results are even better with new non-stick coatings, such as those from manufacturer Eva Solo, which make it easy to turn freshly baked bread out of the tin without it sticking. Although homemade bread can be baked in the traditional way without a loaf tin, using a tin is quicker and the bread always looks perfect. The same goes for baguettes: Delicious aromatic crusts are guaranteed with the ingenious baguette baking tray from Lares with extendable brackets – or with the mini-baguette baking mould from Zenker made from fibreglass-reinforced silicone. With its patented folding system, Lékué's all-in-one bread preparation kit has managed to combine a kneading and proving bowl with a loaf tin. The side openings allow hot air to circulate so that the bread comes out of the oven a crusty golden brown. Manufacturer Emile Henry has come up with its 'Crown Baker' that allows you to create a perfect ring of 8 bread rolls. The use of refractory ceramic ensures the right level of humidity in each of the cavities during baking. This original loaf tin is not only practical, it's also a real eye-catcher in the kitchen.
Long-lasting freshness: sourdough likes bread bags
Let's take another look at those innovative bakers who are slowly but surely revitalising the craft in Germany. Organic master baker Julius Brantner is one of this new breed. In bakeries from Australia to Austria, he discovered the ideas that he is now implementing with a regional touch in Munich. The sourdough bread – typically Bavarian and flavoured with coriander, fennel, caraway seed and aniseed – from his artisanal bakery is sold without plastic packaging because true bread connoisseurs wrap their loaves in linen or paper to keep them fresh. Having the loaf pre-sliced at the bakery is also a no-no for such back-to-the-roots professionals: They say that this dries out the bread too quickly and – especially with sourdough breads – it can easily go mouldy.
Bread bins and manual bread slicers
As recommended by our professionals, linen creates the ideal environment for the loaf, as it is both breathable and moisture-retaining. Gently wrapped up, the bread can then go into a well-ventilated bread bin standing proudly on the kitchen counter. These gems are available for any interior in various tried-and-tested materials – from the Römertopf enamel and terracotta versions to the circular WMF 'bread drum' made of stainless steel with a cutting board of blade-friendly bamboo. With the portable bread bin from Brabantia, we like both the practical handle and the bamboo lid, which can be used as a serving plate. When brought out of the bread bin into the light, the loaf should always be freshly sliced: Nostalgia fans will love the classic, manual bread slicers, such as the retro models recently relaunched by Zassenhaus.
Rising star: bread and gastronomy
"A linen cloth was used in the past and it still is really the best thing for keeping bread fresh. And, of course, a good bread bin as well," is also the advice of Dennis Aukili, founder of the Mehlwassersalz bakery in Frankfurt's MMK Museum of Modern Art. His craft bakery has just been named the best in the German state of Hessen. The idea for the bakery came to him in his Chairs restaurant-bar located in Frankfurt's Bornheim district: "The guests there love our homemade bread. Some began to come from quite a distance specifically because of the bread we serve with their meal. We thought, why not open an artisan bakery in parallel? And that's how it came about."
Today, no restaurant can be a really compelling venue if it just serves plain bread – often dry and with no authentic flavour. Home-baked bread, or a selection of craft breads, has the potential to keep hold of regular customers and to generate new ones. Due, in no small part, to the skills of hobby bakers, bread is no longer just a staple but has now become an attraction that reaches for the Michelin stars.
Bread knives and heat plates
Finally, the icing on the cake, so to speak. The craft bread has arrived at the table and it would be a shame not to accompany this sensory pleasure with an equally great design – for example, the ultra-sharp Teflon-coated bread knife from Panoramaknife that displays a Swiss mountain panorama on the blade. Perfect partners for this knife would be the slender handmade oak chopping board by Dutchdeluxes or the birch wood laminate chopping board with Scandi grid pattern by Iris Handverk. Fine leather bread baskets from Dutchdeluxes can then be used to present the rustic slices attractively. The Uashmama terracotta warming plate is an innovative product idea. Simply put it in the oven at 180°C for a quarter of an hour and then place it in the paper bread bag supplied to keep the bread warm. And the ultimate in sophistication for special occasions is the large red ceramic bread cloche by Emile Henry.
Bread is a well-loved part of our cultural heritage and we have a responsibility to preserve its originality in all its facets. Professional craft bakers do not see making bread at home as competition, but rather as an enrichment and opportunity for handmade bread in general: It makes the high quality of the time-consuming product all the more accessible to customers and serves as an inspiration to hobby bakers. All of this, say the young professionals we have encountered, serves to promote an understanding of traditional, pure foodstuffs – including butter. The thing is, most people don't know how quick and easy it is to make their own butter, for instance vegan or additive-free: which is why we're introducing you to the enchanting vintage butter churner from Kilner. Simply pour in organic cream and turn the handle. A silicone mixer then starts to turn the 'white gold' into butter. And you can be sure that the result is wonderfully creamy when spread on craft bread!