The cocktail glass is almost as old as the mixed drink itself. But what does a 2017 cocktail look like? Which designs spark our interest, and are looks all that matters? From minimalist to playful, free rein is given to your imagination this season.
Cocktail glasses from:
1 Aida
2 Bohemia Cristal
3 Steklarna Rogaška
4 Spiegelau
5 Nude
Once upon a time there was a mixed drink
The word cocktail first appeared around 1800, somewhere on the east coast of America. It originally described a mixed drink made of alcohol, sugar, water and bitters, designed to stir the senses. The golden age of the cocktail was the late 19th century. At that time, the first collections of recipes began, mainly in the USA, and spread around the world. In the first half of the 20th century, the word cocktail became an umbrella term for alcoholic drinks with several different ingredients. Even back then, presentation was everything. The coupe glass, or champagne saucer (coupette in French), quickly became the standard drinking vessel. This glass is stylish, open-topped and wide-bellied; somewhat smaller in volume than a Martini glass. Nowadays there are almost as many different types of glass as there are cocktails. Serving cocktails is all about the little details, whether you use tumblers, cognac glasses, punch glasses or champagne flutes. The most important ground rule for all bartenders and cocktail buffs is that each glass is only used once. Before serving your cocktail, the glass should be dry, clean and preferably chilled. Glasses can also be decorated to match the drink. A classic glass can have a curvy or traditional crystal design, but must be transparent to show off the orange zest, lemon, cocktail cherry, ice and other decorative items. The cocktail itself is often a lovely colour too, so show it off! In other words, a harmonious blend of individual components helps to enhance our drinking pleasure.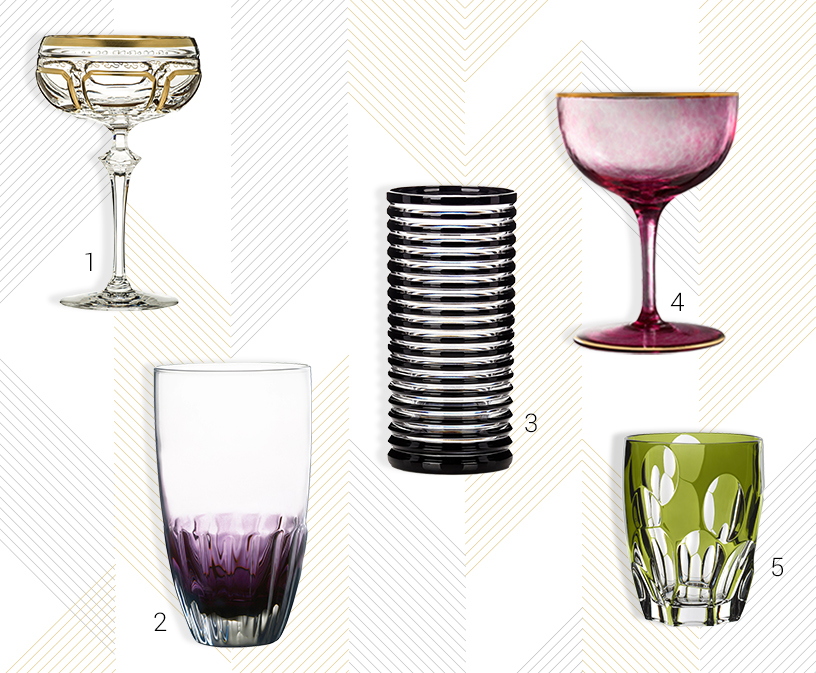 Cocktail glasses from:
1 Arnstadt Kristall
2 Anton Studio Designs
3 Dibbern
4 Waterford
5 Nachtmann
Colour to the people: bright glass design
It's true that traditional cocktail glasses are timeless design classics, but that doesn't stop them being tweaked a little. Coloured glass is a new trend that puts the vessel itself in the limelight. Subtle nuances are what matters: these glasses are rarely a single, uniform colour. Instead, manufacturers and producers use graduated colours, geometric shapes and clever marbled effects to ensure we can still see the cocktail behind the exciting designs. When combined with gold, a three-dimensional geometric engraving brings back the glamour of the 1920s Jazz age. You can almost imagine clinking glasses with the Great Gatsby himself.
Next, we're catapulted back to the present day with these distinctive long drink glasses by Dibbern. They are hand-blown, hand-cut two layer glasses from the Charleston collection. They take time and effort to produce, as clear and coloured glass are melted together permanently using a particular type of glassblowing. The resulting intense interplay of transparent and opaque rings transforms any drink into a designer item. And if drinks aren't your thing, this glass makes a great decorative object in its own right.
Cocktail glasses from:
1 Rona
2 LSA International
3 Eva Solo
4 Durobor
5 Schott Zwiesel
Futuristic minimalism, understatement par excellence
For the less flamboyant among you, how about our second major design trend? Here, glass makers celebrate minimalism and take it to the extreme with the very thinnest glass and cleanest straight-line shapes. This is all about tasteful understatement, sitting somewhere between James Bond, Stanley Kubrick and futurism. Opulent shapes and bright colour effects are nowhere to be seen. Instead, this glass has clean lines and puts the drink up front and centre stage. This is the glass equivalent of a real gentleman, but with a bit of an edge: like 007 in glass form. These are designs with a certain twist: perhaps a slanted rim on a conventional martini glass, as designed by Eva Solo, or Cubist-style matte glass steps from Durobor, reminiscent of an icy pyramid. Other glasses, such as the "Dancing Tumbler" from Schott-Zwiesel, provide plenty of dynamism and movement thanks to its rounded bottom, whereas others stand firm, for instance when a solid bottom meets thin crystal sides. It's enough to satisfy even an enthusiastic old-fashioned drinker such as Don Draper.
Cocktail glasses from:
1 Moser
2 Libbey
3 Jeray Original Products
4 Baci Milano
5 Kosta Boda
Eye-catching and expressive glass art
What makes a really authentic Mai Tai? How can a vodka cocktail be kept perfectly chilled for long periods? Until recently, only traditional cocktail bars worried about such issues – and turned to design to enhance the drinks they serve. Yet increasingly, conventional bars have identified the importance of such details to our drinking pleasure. This is where looks meet performance – and they can speak volumes. A glass shaped like an Aztec mask carving is a drinks cabinet must-have, and the copper-coloured stainless steel beaker for vodka drinks is now a firm favourite in fashionable watering holes. The great thing about this beaker is that its glimmering stainless steel finish hits the contemporary nail on the head, while it's also ideal for keeping drinks at a constant temperature. There's a lot more creative potential in glasses.
The range of glasses from Baci Milano creates a variety of impressions, from ladylike to regal, in muted taupe and milky hues. Behind the opaque acrylic, the drink remains a well-kept secret. The baroque elements of this design fit this coy aspect particularly well. As early as Louis XIV, design has played with people's perceptions. In contrast, the designs by Moser and Kosta Boda are more amorphous. On the one hand, matte glass with fine black scratch-like marks is reminiscent of heavy stonework, while on the other, nebulous ribbons of colour within the glass create a more liquid appearance. Each individual glass is unique, and the drink becomes an all-round sensory experience.
Bars:
1 The Fumoir
2 Zenzakan
3 The Parlour
A certain je ne sais quoi: tips for connoisseurs
If you're in Frankfurt and want to finesse the presentation and taste of your drinks, there are two places you must go. Zenzakan is Frankfurt's exclusive pan-Asian supper club, with a bar boasting not only unique and opulent design, but also rather unusual cocktails for the curious connoisseur. At Parlour, the atmosphere is more one of reserved style. Its focus on quality is clear, and the bartenders' know-how is paramount. Every drink here is a well-rounded concept. The team uses sous-vide preparation techniques to develop the finest liquids known to man, which may be made up of 18 different herbs and spices. To really bring out the extensive pleasure to be had from these drinks, they avoid heavy, solid glasses. These would distract from the contents – and in any case are now wearyingly omnipresent. Instead, very thin glasses are used to serve and enhance cocktails – with excellent thermal properties. The bar's popularity attests to the success of this concept.
Globetrotters looking for a very special, top-notch taste experience should visit The Fumoir bar at Claridge's in Mayfair, London. This 30s-style bar takes you on a journey through time, sweetened with an unimaginably wide range of the finest liquors, including 200 different champagnes.