Frankfurt is such a diverse city, we doubt you'll be heading straight back to your hotel room after the fair finishes for the day. So, where are the best places to go? We know some of the most interesting locations for hungry and thirsty visitors.

Frankfurt has far more to offer than just the exhibition centre. There are so many alternatives to heading straight back to your hotel room in the evening. But where to go when you're a stranger to the city? We have selected a number of outstanding restaurants and bars that make it crystal clear that the attractions of Frankfurt am Main should not be underestimated. Don't worry – Frankfurt is a compact city and you'll be pleasantly surprised at how quick and easy it is to get to an array of great bars and restaurants.
Japan am Main
You don't have to go far from the exhibition centre to find excellent places to eat and drink – and the number of such establishments has continued to grow over recent years. Friends of Asian cuisine should take the short walk to 'Ramen Jun', where they'll find Japanese noodle soups prepared to traditional recipes served by Mister Jun. He already owns several restaurants in Japan and now wants to establish a base in Frankfurt from which he can conquer Germany with his tasty and substantial soups. If you're not sure how to eat these long noodles elegantly, just watch the numerous Japanese guests at the restaurant.
German cuisine and industrial history
Restaurant Druckwasserwerk (English: waterworks) offers an out-of-the-ordinary ambience. Built in the neo-Romanesque style, its name bears witness to its past as a former machine house. The restaurant is located to the south of Messe Frankfurt on the River Main and comprises a large hall that is surprisingly inviting and cosy thanks to the warm lighting and red brick walls. The menu includes a range of traditional German dishes with a little twist – for instance, sauerbraten (braised beef) with vanilla-glazed carrots. In summer guests are able to relax at the end of the day on the restaurant's own private strand.
Schnitzel in the stables
In a quiet side street in the relaxed Westend district of Frankfurt not far from the Alte Oper opera house, restaurateur Franz Zlunka runs the Herr Franz restaurant. Patrons are served their meals in the former stables of Jewish businessman and multimillionaire Mark John Livingston. It may sound a tad rustic, but it's in fact an imposing neo-Baroque building. However, the interior design has been kept deliberately understated and the food is cooked behind an open counter. Since the owner is a dyed-in-the-wool Austrian, the restaurant naturally offers Wiener Schnitzel served in authentic style with cranberries and potato salad. And if Herr Franz himself is on duty, you may well find him sitting down for a brief chat, clicking his fingers and having another bottle of wine brought to the table.
Vive la Francfort!
Just a couple of blocks away in a parallel street is a picture-book French brasserie called "Mon Amie Maxi". Situated in the historic Villa May, it combines chandeliers, giant floral arrangements and heavy upholstered chairs to create a harmonious whole without dominating the dining environment. The open-style Raw Bar in the middle of the restaurant is a great attraction that makes it crystal clear what you're likely to find on the menu. Here, fresh mussels, lobsters, oysters and other seafood can be inspected before being prepared by the chef de cuisine in the open kitchen and served to appreciative diners.
Culinary table dance
If after an eventful day at the show followed by a good meal you've still got the energy to go out and celebrate, a short walk will take you to the perfect place. 'Der Grieche' offers Greek specialities as well as lots of Greek passion. From Thursday to Saturday there is dancing on the tables almost as soon as the plates have been taken away when DJ Nikos gets going. This stylishly furnished taverna with its mix of dining and clubbing not only attracts a wide range of locals from bankers to party animals, it also creates a real holiday atmosphere.
Germany's 'Big Apple'
Frankfurt is a compact city with an exciting nightlife, and nowhere is this more evident than in the Bahnhofsviertel district near the central station. The Maxie Eisen restaurant-bar, named after a New York mafioso, recently received a glowing review in the New York Times. Almost overnight it has become the culinary flagship of this up-and-coming district. Here you'll find typically New York Jewish specialities including all sorts of pastrami sandwiches. This type of beef, which is slowly brined and then smoked or steamed, has only recently become popular in Germany. Here at the Maxie Eisen on Münchener Strasse you'd think you're in downtown New York. No wonder Frankfurt am Main also goes by the nickname 'Mainhattan'.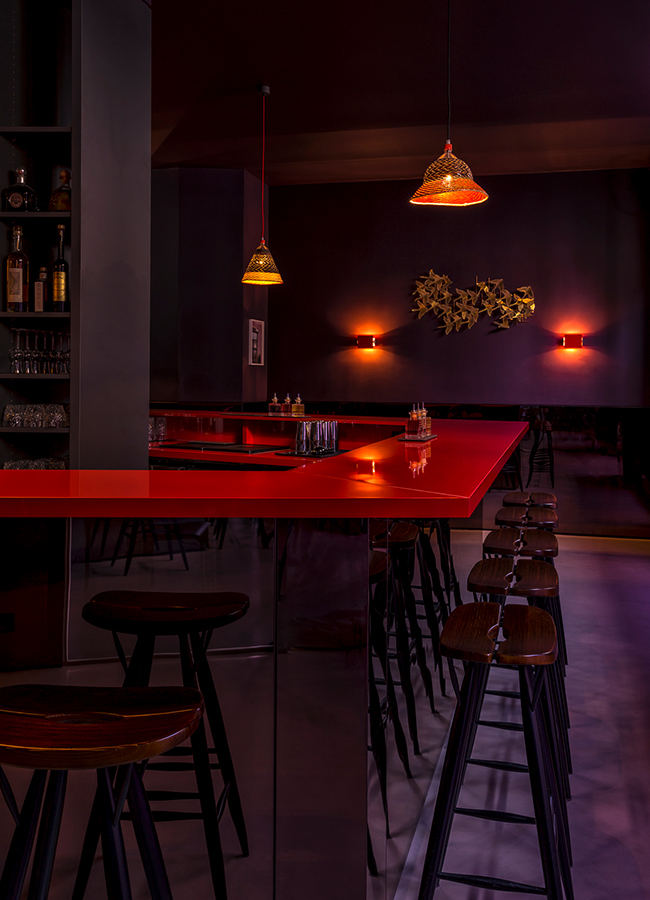 Vegan Willy
Visitors looking for a totally meat-free restaurant will need to venture a little further into the city centre where they'll find the recently opened Vevay vegan/vegetarian restaurant on Willy-Brandt-Platz. The extensive menu offers a wide range of superb dishes that contain no meat or animal products. Owner Yilmaz Yaka is particularly keen on the use of local products, and with tasty specialties such as low-carb falafel burgers and vegan chocolate mousse there's something here to suit all tastes. And the delicious smoothies he makes are an ideal source of energy for the coming day at Ambiente.
Goodbye Prohibition!
There is no shortage of good places to go out for a drink in the evening in Frankfurt. The scene in the city is constantly changing with new bars springing up like mushrooms. One of these comparative newcomers, which has already become a legend in its own short lifetime, is the Kinly Bar on the infamous Elbestrasse. Provided you are allowed in through the inconspicuous black front door, you descend into a windowless room that feels like a throwback to the days of the Prohibition Era. The carefully selected 20s and 30s décor contributes to this atmosphere. An absolute must is a glass of punch from the bowl at the Punch Table in the middle of the bar. These punch bowls were particularly popular in the 17th and 18th centuries and still delight guests today. The complex cocktail creations dreamed up by owner René Soffner are also a treat not to be missed.
Ring for a drink
Just a few streets further on is the Hunky Dory Bar run by 30-year-old Armin Azadpour who has quickly made a name for himself in Frankfurt as a specialist in innovative gastro concepts. He has installed dial-up phones that allow guests to ring each other, or to call the barkeeper to order more drinks for their table. Typical specialties here are home-made gin and fine wines from the Alsace region. It seems the only thing they haven't got is an automatic redial!
Advertisement-free zone
This establishment has no name and it doesn't really go in much for advertising either. What the 'Bar ohne Namen' (Bar with No Name) at Eschenheimer Turm does have though is the slogan "good times for good people". Its best advertisement are the countless guests who gather at the bar in droves in the summer. The restrained décor with rustic wooden furniture and black walls is enlivened with fun details such as Star Wars toys. Some of the cocktails are also a bit restrained, while others are really upbeat (for instance, one cocktail is made with herbs and marmalade). And if you're a bit peckish, there are also sandwiches, pasta and cakes.