"Come and join us!" Traveling is finally fun again and many people are now making up for what they haven't been able to do for a long time: visit their loved ones far away. For some hosts, however, the overnight visit also presents new challenges. During the pandemic, not only kitchens but also many guest rooms were converted into workspaces in a rush. Now it's time to breathe a good shot of hospitality back into these utilitarian spaces.
Hospitality instead of hotel
Hosting travellers privately has a long tradition. In Europe, for example, this form of accommodation was not only a common custom until the 18th century, but the only pleasant alternative. The reason: taverns specialised purely in catering and the guesthouses along the major trade routes usually offered only meagre sleeping quarters that were often neither comfortable nor clean. Craftsmen and merchants, for example, counted on their guilds or trade associations. The first hotel became established in London in 1774. Since then, this comfortable accommodation alternative has celebrated its worldwide triumph. Nowadays, travellers are not really dependent on private accommodation. Rather, guests and hosts are happy about the extra quality time together.
With the right tricks, the change from workplace to cosy guest room doesn't have to mean much effort at all. Anyone who wants to rethink their study/guest room is now discovering many intelligent solutions in which the fully-fledged workplace fits into one's own home design – or even disappears into it completely. This is also the case with the smart Mini-Max solution from the Spanish brand Beaktor: When open, the Beaktor workspace takes up less than one square metre of space. When it is not in use, it can be folded up on the wall and finished with an attractive design to suit your taste.
Living comfort in the smallest space
The most important aspect in multifunctional rooms is order. The market offers plenty of stylish furniture and accessories for this purpose. Blankets, magazines and other objects, for example, disappear quickly and silently in charming storage solutions such as the beautiful handmade baskets by Halinh or the stool (Leitmotiv by Present Time), which serves as a chest, too. The simplest way to offer visitors a place for jackets, clothes and bags is the classic wall hook. This solution does not have to look purely functional, as the redesigned retro bicycle handlebars by Trademark Living prove.
Well thought-out mini wardrobes also bring pleasant systematics. Fixed variants such as the filigree Bellwood coat rack by Umbra (header image) almost replace a full-fledged wardrobe and can be used as a coat rack in everyday life. Simple coat racks, on the other hand, offer great flexibility and can be leaned against the wall anywhere if required. Some designs open up the possibility of hanging accessories such as mirrors and shelves, creating a fully-fledged piece of mini-furniture (Raumgestalt).
Textile cosiness
Organisation is important – but it's only half the story. With selected textiles, it is easy to achieve a good balance between cosiness and a personal touch even in rather functional rooms. Narrow carpet runners in light shades (Pappelina) or floor cushions (Kare) bring cosiness and loosen up the ambience. A good shot of cosmopolitanism is conveyed by objects such as unique blankets made from used saris (Van Verre) or the Aquaboy cushion series from the Pad brand.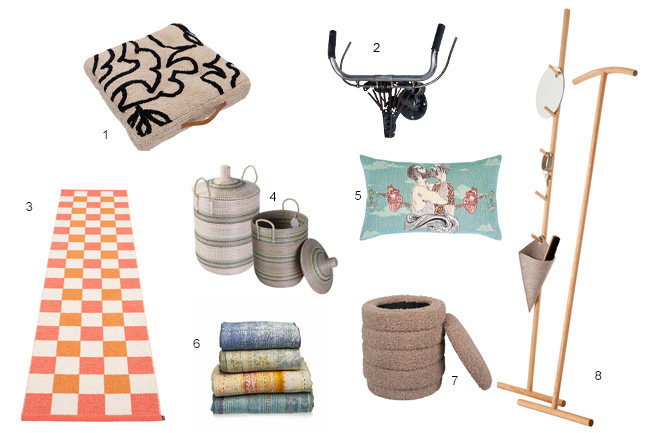 Bright good mood
Light is the magical element of interior design. It enlarges small rooms, illuminates gloomy zones and conjures up the right mood for every occasion. And it can do even more. Current luminaires offer sophisticated functions that make them true wonder lamps. These include contemporary designs such as those by Intentions: their Youmeand luminaires fit in or around every corner and thus enable a balanced lighting design even in rooms with many nooks and crannies. If you are a stranger in a flat, you will be happy to have small light sources that provide orientation at night. The selection for this is huge and ranges from the classic socket light to original models such as the LED dreamcatcher from Mags.
Not all accessories have to be purchased just for the guest room. Portable luminaires in particular can be placed wherever they are needed, independent of the power supply: on the desk, next to the sofa bed or in the living room. Innovative designs such as the Air Sonic aroma diffusers (Ipuro) not only emit light and fragrance, but also humidify the air for a pleasant indoor climate. Other solutions combine warm glow with rich sound and, depending on the model, can even be used as bottle holders (Kooduu).
Omotenashi: more than the love of detail
Fresh flowers, a loving decoration, a matching room fragrance: It is the small attentions that make the difference. In Japan, this special form of mindfulness is called omotenashi. Translating the term simply as hospitality, however, falls short. For omotenashi not only involves heartfelt devotion to the other, but is also based on the mutual respect of all parties involved for each other. This means: one side makes an effort to look after the visitor in an ideal way, the other side acknowledges this with appreciation and the careful handling of the things that become theirs. Almost symbolic of this is the Japanese tea ceremony with its complex rituals, which only a few master to perfection and which must be learned at great expense.
Hosts from other countries do not have to go quite so far. Nevertheless, a stylish Japanese tea set like the one from Time & Style (design: Azumi Tomoko) encourages a shared tea time. In addition, the possibilities for pampering the dear visitor are as inexhaustible as they are individual. They range from soft towels in organic quality (Linnen Me) to handmade baskets for mobile phones and co. (Anzy Home) to high-quality Fairtrade felt slippers for warm feet with a good conscience (Egos Copenhagen by Gry & Sif).
Whether music, books or games: Cleverly placed, common interests provide topics of conversation. An attractive eye-catcher like the Skyline Chess may encourage a long match of favourite cities or planning the next trip together. For a good night's sleep, a chocolatey "handful of happiness" (Jalall D'or), a selected aroma (Teatro Fragranze Uniche) or the lavender sachet (Frohstoff) put the icing on the cake of a successful stay and say: You are very welcome!