The true, authentic essence. Pure white and the range of its shades are ideal for bringing out the original identity of things: their volume, contours and materials. Of all the Ambiente Trends 2020, 'shaped + softened' is the one which appeals most strongly to our subconscious yet intensely held feelings, which in turn form the basis for functional design and exciting surfaces. If you see it, you'll want to touch it. If you don't believe us, take a look at these stunning companion pieces and accessories.
Light amplifies
What is the greatest possible clarity? Ultra-perfection – consistency down to the smallest detail, which is achieved particularly well by objects made of porcelain. Among the trio of Trends 2020, the porcelain in 'shaped + softened' shows surprising strength while not being showy. There is a precision to pure white plates which feels like breathing in fresh, cool air. Glasses as clear as spring water amplify light and attune with finely structured surfaces, while organic-shaped glass vases do likewise. They come together in a finely balanced still life just waiting for you to bring it gently to life.
You can see the influence of Japanese dining culture, be it in small bowls, as delicate as cherry blossom, or a Scandinavian stoneware teapot ideal for traditional tea ceremonies. Ceramics, sometimes in shades of grey, find a rather different way to the heart of things: more movement and irregularity in their surfaces spark positive tactile sensations. Tableware made of smooth, light wood works in a similar way and reminds us of our ties to the natural world and makes longevity tangible.
Soft and special
Fairtrade baby alpaca blankets – made from the alpaca's first shearing – are something you'll want to enjoy all year round. They give a gentle textile hug on late summer evenings and a cosy feel in bad weather. These blankets and throws in key shades of white and grey are often almost wafer-thin, but surprisingly robust. They make a multipurpose bridge between the worlds of traditional Andean craft and minimalist Scandinavian design. Translucent fibres add to the feeling of quality and light, with soft folds to further refine the luxurious sensory experience.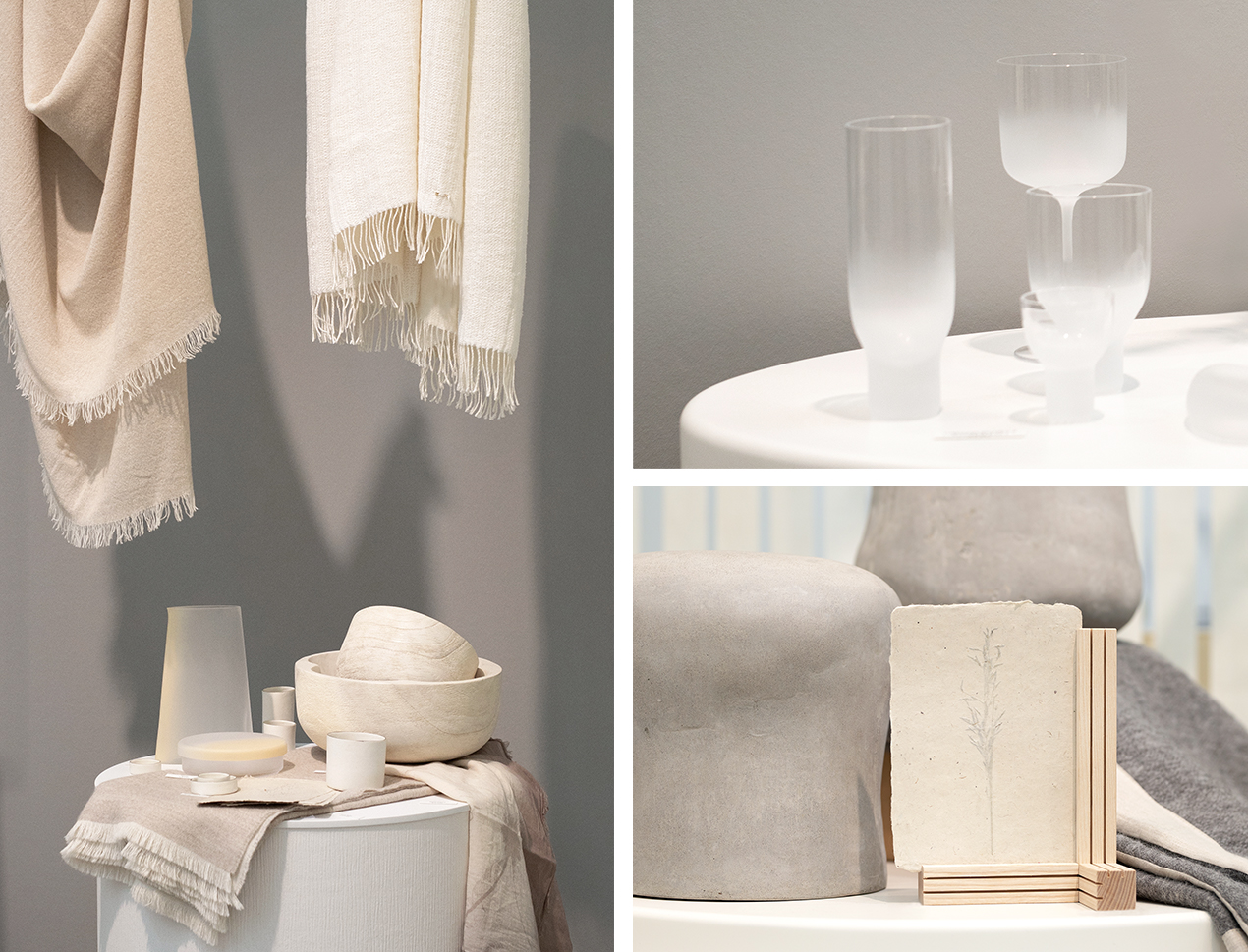 A raw strength emanates from the hand-sewn, truly authentic luxury of linens from the Baltic. As with the blankets, these have an inherent, unique appeal. Here too, you can certainly see and feel the love and attention which has gone into creating them. This feature is also apparent in the handmade stationery. And we really love these felt-covered stools, silent monuments which fit beautifully into this grounded design world.
Take courage, calmly
Can't we add just a bit of whimsy? This trend says you can, just a little bit. Take for example this futuristic ceiling light which might have been inspired by journeys into outer space. Hoops of LED light intertwine organically inside each other's orbits. Or perhaps you'd prefer a slightly more muted approach, like these eye-catching poppy seedheads made from radiant fine white bone china. Vases and lidded jars become miniature works of art when matt pearl glaze and minimalist pinecone-structure decorations are applied by hand. The 'shaped + softened' trend draws power from its decisiveness. This is presented to raw, beautiful effect in works by Czech designer Petra Švejdarová. She fills concrete pedestals with recycled glass, then uses flames and iced water to make the glass crack. It achieves a different surface each time, which she then smooths and polishes. The significant sculptural quality of these objects gives a visual impression of the 'calm after the storm'.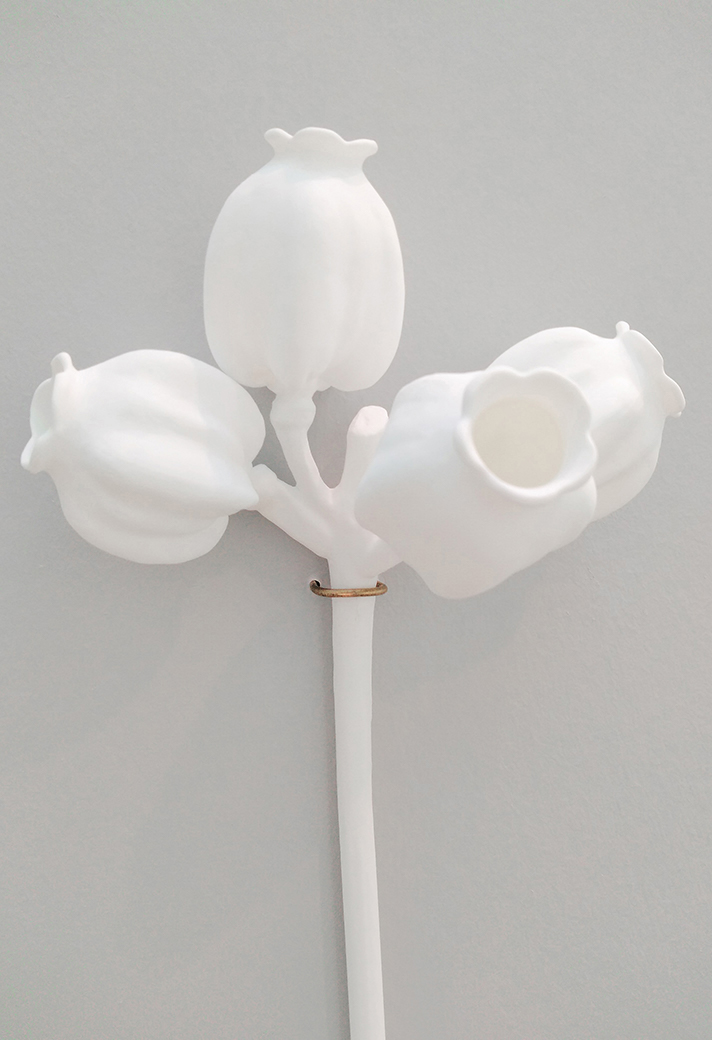 In an interesting parallel, concrete can be 'tamed' to a silken sheen like polished marble. This might take the form of a bollard-shaped stool – which can be transformed by inserting flowers and branches in a recess – or a floor-standing lamp with a light silicon rubber trim used along the upper edge of the shade. To a greater extent than with the other Trends 2020, this one is about feeling good and reducing stress, with the focus on calming, healthy surroundings. The white, neutral nuances place greater emphasis on the significance of shapes and underpin the effect of materials and surfaces.