'Making Space' is a major trend identified by this year's 'trend watchers'. As in previous years, students from the Fontys University of Applied Science from Tilburg (Netherlands) were at Ambiente on the lookout for the latest trends. On a tour of the show we talked to trend watcher Stephanie van Vlerken. She explained why we crave order.
We are standing in front of an array of lights that could come from a mathematics lesson. Rhombuses, diamonds, triangles – these are this season's hot trend nominations. The minimalist lights from Designobject.it illuminate and reflect the power of geometry. "Craving symmetry" is how trend expert Stephanie van Vlerken describes it: "We live in a world of sensory overload and crave clear lines in modern interior design. Elementary shapes and patterns meet this desire. Seeing them creates order and harmony inside our head. They give us some sort of inner peace." The 24-year-old then briefly explains what her team does. "We start our researches and analyses about five months before Ambiente. We study the latest social developments and what's happening in world politics. We come to Frankfurt with a complete Trend Book. Here we look for products that match the trends. A product never initiates a trend. Instead trends tend to give rise to products."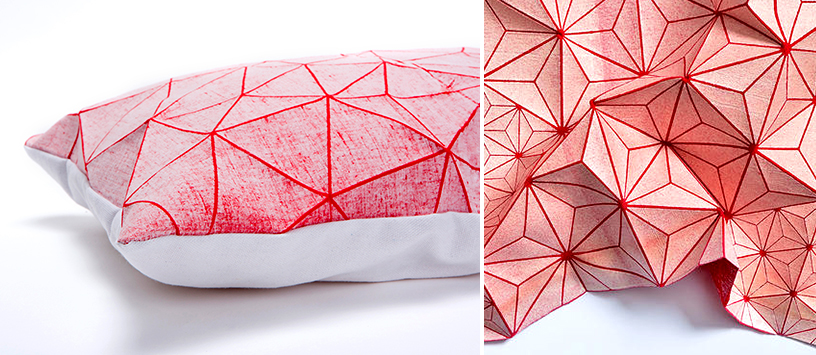 'Making Space'. So how can we obtain maximum comfort from the tiny apartments that we increasingly see in our major cities? Primarily, by using flexible furnishings and organisational aids according to the trend watchers who show us a really clever idea at Ambiente created by Umbra Shift. Their designers have designed the ultimate piece of multifunctional furniture – a chair, clothes hook, valet stand and eyecatcher all in one. You'd be hard put to find anything more space-saving. Industrial designer Jessica Herrera, on the other hand, has come up with a way of combining desk and dining table with the use of a folding mechanism. Her shelving ensembles are suspended from the ceiling. "My sister lives in Brooklyn and I live in San Francisco. When you haven't got much room you have to go for something that makes sense where space is at a premium," explains the 23-year-old US designer.
Stephanie van Vlerken looks into future styles of living: "We are no longer going to stay for 30 or more years in the same place. This means we need furniture that is lighter and more flexible. At the same time we crave order as the world is becoming ever more chaotic." Outside there is a feeling of insecurity that the individual can do nothing about – inside there is a striving for order and harmony. To our minds the 'Making Space' trend has a bit of the Biedermeier about it. A very soft colour palette from pink to sky blue psychologically reinforces the cosiness factor.
The next trend product captures us immediately. It is just too tempting to sit down on the round sofa from FlexibleLove (by Gerling Living). With its special honeycomb structure it can be adapted to different requirements. It's hard to believe that recycled paper can carry so much weight. This model can be extended to seat up to 8 people and larger versions even have room for up to 16 people. It's a miracle of interior design! Don't be tempted though to take it outdoors as it doesn't like the rain.
And talking of rain, the green walls of Style Green don't need any water. Actually, the preserved plants feel quite real to the touch. "We must make greater use of natural resources so that the entire ecosystem can recover. That is one of the greatest challenges of our age. With the related 'Green Prestige' trend we are trying to say that the treasures from nature are the new luxury", says Stephanie van Vlerken. The trend watchers found numerous examples in their preliminary studies, e.g. furniture and home accessories that depict or even recreate plants and insects, as well as flowers presented behind glass like valuable jewels.