Home fragrances are subtle messengers. Perhaps with even more precision than our auditory or visual senses, essential oils enable us to grasp the character of a room, even when the aromas are below the threshold of perception. The same applies to the stylish portable fragrances that we use in cars and on journeys – they convey a feeling of safety and hygiene, and their special natural oils demonstrably strengthen the immune system. In this blog post, we focus on new designs, useful features and sustainable types of wax. And did you know that scented candles still emit their wonderful aroma when unlit? You'll find more insider info in our interview with an interior designer.
Scented candles – sustainable, vegan and new designs
Scented candles are like a melody playing in a room. Their gentle power awakens memories – of freshly washed linen, of meadows full of flowers, or of delightful moments that we can experience once again. This special magic comes not just from the exclusive fragrance but also from their presentation, for example the crystal cut-glass candle casings from Julia Crystal, or the sumptuous porcelain scented candle made of soy wax with its own luxury perfume created by the design house Versace in collaboration with Rosenthal. Soy wax is becoming increasingly popular in scented candles as a more environmentally friendly, vegan alternative. Many new products are moving away from conventional petroleum-based paraffin wax and using purely vegetable wax – for instance, the room scent magnets with fine herbal aromas from Engels Kerzen, which can be decoratively attached to the fridge.
More and more manufacturers are turning to traditional beeswax, and in the case of Bornn's scented candles, these come in reusable enamel canisters. Ambientair creates a special olfactory experience by using natural vegetable wax. The new, eco-certified wax blends are also exciting: Vance Kitira, for example, uses a unique recipe of coconut and rice bran oil for its scented candles. The scented candles from Blomus come in marble containers, available in various stone colours, and are free of palm oil which means that the candle produces a particularly low amount of soot. For those who prefer a more straightforward design, the creations of Camilla Schram, founder of the Danish label Humdakin, are wonderfully fragrant purists in glass, free from paraffin, petroleum, animal products and genetic engineering. In the sphere of sustainability and mindful living, scented candles now occupy an important new position. In addition to the olfactory and visual stimuli that convey relaxation and aesthetics, this generation of scented candles focuses strongly on health and environmental responsibility and pays particular attention to the use of appropriate ingredients such as non-allergenic materials.
While the fragrancing of rooms was originally to a large extent an expression of appreciation towards the guest, home fragrances fulfil several additional functions in today's world. We interviewed Clemens Hummel in his P22 Interior Design showroom in Frankfurt's city centre, where he and his team plan the furnishing of houses and apartments. He explained how rapidly home fragrances have developed as home accessories and how you can stage them effectively.
Mr Hummel, the stylish presentation of fragrances has a long tradition. What makes home fragrances so popular today?
"The times when home fragrances were an absolute necessity are fortunately over. Rare resins and spices used to smoulder away in precious containers to cover up a lack of hygiene. Even then, they were a pure luxury product; think, for example, of the fancy potpourris of the 18th century made of the finest Sèvres porcelain. Just as a suitable perfume emphasises the character of the wearer, fragrances from candles or glass flacons can support the ambience and feeling of wellbeing in the home. Today, it is no longer about hygiene as it was in earlier times, but about the unconscious, subjective impression of cleanliness that pleasant fragrances can trigger. Scents are powerful. Just as a barely noticeable scent can influence one's perception of a person, the same happens with a room."
What current trends have you noticed?
"Subliminal fragrances are in demand. Less is more here – nothing intrusive that assaults you as soon as you enter the room. Also, everything is moving towards environmentally compatible, natural ingredients. For instance, scented candles made from the finest beeswax, or containers made of crystal glass, or handmade ceramics filled with natural oils. Cheap, artificially produced essences and weird fragrance compositions have long maligned the reputation of home fragrances. Lovers of design and quality can now find a wide selection of the superior artisanal scented candles and diffusers that make a great statement in interior design."
What's your favourite?
"Scented candles! Because they can be positioned anywhere in your own home and staged expressively or alternatively discreetly hidden, for example in a flower arrangement, which would also look good with a home fragrance flacon. Top products can be extremely expensive, but most of them do come with a cover, so, you can stop the fragrance coming out if you want. And what many people forget is that high-quality candles give off their aroma even when unlit. Tip: Only let the candle burn until the wax has become liquid, the olfactory experience will then continue for a long time."
Home fragrances: healthy air, healthy house
Glass flacons with pure essential oils diffused via incense sticks made of bamboo, rattan or precious woods have long been appreciated as wellbeing accessories. Aromatherapy has shown that many high-quality oils have an antimicrobial effect and thus significantly reduce the germ load in room air – take citrus and silver fir oil for example. They are therefore in high demand in places where there is a risk of infection. All the more reason to check out the new, stylish home fragrances we discovered at House Raccoon, Menza and Manulena – some inspired by geometric design, some sculptural like an artistically crafted vase, some flacons modelled on historical liqueur bottles such as those from VGnewtrend. The designs by Italian designer Cristina Celestino for Ichendorf Milano, made from hand-blown borosilicate glass of the kind used for glassware in laboratories, look as though they have been created for an experimental production at a special retreat – they are so cleanly functional and contemporary in a surprising design. More opulent is the home fragrance by artist Corry Ammerlaan van Niekerk for Artihove Regina. Here, the flacon becomes an atmospheric table object with a light inside the filigree openwork metal sphere.
Smart fragrance diffuser
Scent molecules can be modulated more precisely and in a more targeted manner with electric fragrance diffusers: Ultrasonic cold diffusion is the most effective method of distributing the molecules around the room. These small devices, which also act as air humidifiers, require distilled water mixed with essential oils and a power socket to diffuse the mixture via a very fine, cool mist. Some devices with this ultra-quiet nebulisation technology have changing LED colour displays – as with the Sense & Fragrance product and the high-end Cerería Mollá petal design – and can therefore be used as a cosy light source and for healing light therapy. The manufacturer Ipuro offers a range of other smart additional functions, such as a remote control and – for its miniature fragrance diffuser for on the go and the office – a USB charging cable.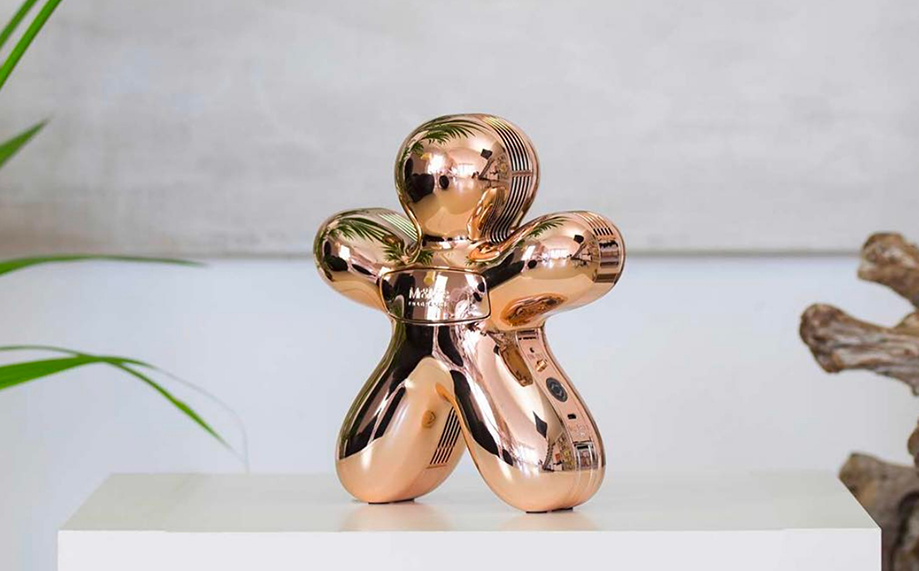 With the fragrance diffuser by Maison Berger, a remote control also regulates the fragrance experience. The cool little figurine from Mr & Mrs Fragrance has a Bluetooth speaker integrated into the fragrance diffuser and shows how the melody of a fragrance can actually be harmonised with music.
Mindful interiors: revival of incense sticks and scented oils
Didn't incense sticks disappear decades ago with the hippie movement? Not so. With the current yoga boom and popular mindfulness and meditation apps, incense sticks and perfume mats, such as those from the Maroma natural cosmetics line, are experiencing a renaissance, as are resins and flowers smoked on charcoal. The new incense holders – made of ceramic with a marble look at Ashleigh & Burwood – are just right for this. With the incense sticks from Boles D'Olor, the cap of the container also acts the incense holder – what a neat idea! The incense coils from Shoyeido are particularly popular and will burn for many hours in the garden in summer. There are also Japanese incense matches from Hibi that burn for a few minutes and spread a relaxing, natural aroma in the bedroom or elsewhere.
Aquanova has designed a classic hammam bowl with lid for holding stones scented with essential oils that brings calm to bathrooms and spas, releasing long-lasting fragrances. New from Linari are a range of stylishly designed diffuser/candle bases made of Carrara marble or elegant wood, in which a velour fibre in a protective aluminium ring absorbs the fragrance oil. Of course, this principle of room scenting also works perfectly with decorative scent pendants made of rough ceramic, of which Chando offers a selection for the interior.
For interior designer Clemens Hummel, home fragrance choices are not random. He sees it as a skill to use them strategically as mood makers and decorative style statements.
Mr Hummel, in your experience what are the best locations for home fragrances?
"Naturally, it makes strategic sense to place them in reception and living areas, or near the bathtub for relaxation. Many people avoid burning candles in the toilet or bathroom for safety reasons as they are left unattended for long periods. It's better to use a fragrance diffuser there. I don't tend to see fragrances in the dining room or on the coffee table as they distract from the enjoyment of food. Many of us will be familiar with specially composed signature fragrances used in large offices, shops and luxury hotels, which are emitted via the air-conditioning system in order, for instance, to mask extraneous odours that signal human stress. Anyone who wants a fragrance for the home office should take their cue from these creations when using diffusers or fragrance sprays – fresh, awakening and calming, i.e. with aromatic notes of citrus and mint. Again, less is more. A fragrance that we don't consciously perceive still has an effect!"
Are scented candles and diffusers standalone objects?
"They are quite sociable, if you want them to be. You can use them very effectively as decorations in combination with other attractive objects, for example on a sideboard or coffee table. Groups of objects with varied shapes are particularly appealing. Different heights are always good, perhaps with a common material or colour theme."
Textile fragrances: creating that freshly washed smell
When you open the wardrobe door and you're greeted with a scent of freshness, it's a really invigorating feeling! Our grandmothers had quite a few tricks up their sleeves when it came to fragrancing small rooms, suitcases and drawers. Scented pillows with real French lavender are probably the best-known textile scent – and manufacturer Le Chatelard has been cultivating this tradition since its foundation in 1802. Durance creates sachets for scented pillows whose fragrance is released gradually from natural granules. You can even empty the contents into your vacuum cleaner and fragrance as you clean the house. Recently, nostalgic scented drawer liners, popular in England and France, have been in demand. Castelbel prints roses and other delicate blossoms onto its scented drawer liners. The latest ideas include small fragrance cards, perfect on a clothes hanger, for example from Mr & Mrs Fragrance. Insider tip: With the fragrance mist from Steamery, textiles – even active wear – shoes and bags can be gently freshened up, which means less washing and is good for the environment. Here, an active bacterial culture is used to help eliminate unwanted odours.
Fragrance sprays for a quick olfactory fix
Fragrance sprays are a rapid and practical way to pump sympathetic and relaxing aromas into our homes and workplaces – two or three puffs are normally all it takes. Original fragrance sprays with freely composed, city-minded scents are now coming from the Dutch firm Wijck: 'Berlin' uses cedar wood as its base note and with its 'London' spray, black tea sets the psychological scent trigger. The manufacturer reflects contemporary concerns here with the use of recycled PET bottles, which can be used when travelling to either of these cities, thus closing the thematic circle. More traditional fragrance sprays in slender glass flacons from the family-owned company Lothantique, on the other hand, make us think of lavender fields and exotic landscapes, as do the fine sprays by My Fragrances.
Home fragrances for a mobile society
There are a multitude of scents that trigger an almost archaic feeling of home, arrival and security. In fact, the limbic system in our brains makes us perceive them in that way. When we are out and about in the car, on the train or in our hotel room, we long for these familiar scents – for the most part, quite unconsciously. That's why portable fragrances, plug-in air fresheners and scent pendants, as well as those on-trend car scents that are activated by the ventilation system are our sort of 'filling station' for home, safety and an elemental feeling of cleanliness.
Extravagant designs can be found at Maison Berger and – beautiful as a meditative Chinese mountain landscape with rising golden sun – from Chando.
Future scents
When it comes to the most exciting design innovations for our wellbeing and health-focused lifestyle, the Ipuro 'Air Pearls' plug-in diffuser and the sleek, battery-powered Bloomy Lotus 'Pebble' would be high on the list – one cubist and minimalist, the other like a pebble smoothed by the sea. Both are distinctly high-tech, and both are designed for mindful living and care of the self. The global changes we are currently facing and the response of designers are already evident: For example, we've seen the world's first negative ion 'necklace' from Bloomy Lotus, which is battery-operated and enables the use of essential oils. It effectively 'filters' the ambient air around the wearer by means of ion exchange allowing them to move in what feels like a safe, fragrant bubble, protected from allergens, smoke and dust. It's a model that definitely has a future.
Header: Cerería Mollá 1899