Hi, I'm Holly Becker and I'm pleased to be here today, so thank you for having me! I'm an American interior stylist, journalist and four-time book author, founder of decor8, and I live in northern Germany. In my field, it's critical for me to attend fairs to not only spot what's trending, but to predict how I believe they'll evolve, and what will come next. My natural curiosity combined with an instinctive desire to hunt, makes spending time at large fairs like Ambiente endlessly inspiring. Another essential in my profession is that I expand my network and continuously experience products firsthand that catch my eye in order for me to deliver authentic, truthful reviews and reports to those who follow my work. After all, authenticity is the hallmark of a professional blogger. Now that you know me better, let's check my favorite Ambiente findings for 2018 – I'm so excited to share it with you!
There's little more as satisfying than a good dinner party surrounded by loved ones. I enjoy leisurely gatherings kept simple, where friends and family linger, laugh, share stories, and just feel good together. As winter comes to a close, I can't wait to soon plan outdoor dinner parties with fairy lights and locally sourced foods, a great playlist, plenty of candles, and my famous gin tonic bar with garden-fresh ingredients. I can relate so well to what Art Buchwald, an American Humorist and Columnist for The Washington Post, once said about dining, "Dinner is not what you do in the evening before something else. Dinner is the evening." That is why my columnist, Anke Illner, and I often present stories around the well-laid table on decor8.
As I set out to find the next big tabletop trend, I realized within the first hour at Ambiente that it wouldn't be hard to pinpoint at all, and it pleased me so much because the overall theme resonates very personally with my own philosophy around dining out and entertaining at home. In fact, to me, this isn't a trend at all – it's my lifestyle. Perhaps as you read further, you will discover that you too have been decorating your tabletop to incorporate many of the elements of this trend for years, too. I can't wait to tell you more about it but first, let's briefly discuss two primary types of dining – fine dining and casual dining.
FINE DINING
With fine dining, it's all about setting the scene, showing and serving your best, and doing whatever can be done to make your guests feel important. With fine dining, customers want an optimal experience and food enthusiasts ("foodies") have no problem spending money on an exquisitely plated meal. Currently, locally sourced recipes are popular in fine dining, but also a good chef knows presentation is as important as the recipes served, which is why the world of fine dining continuously evolves to meet the high expectations of customers.
At Ambiente, I observed a bevy of fine dining service sets to create the most exquisite tabletops. It was endlessly fascinating to peruse the dining halls and experience firsthand the vast array of china from leading manufacturers. Many of these esteemed brands have been around for hundreds of years, but three really stood out to me during this fair. First was Meissen. Their artistry is still unrivaled. A striking example was a vase, decorated with intricate, colorful patterns dating back to 1710 until now.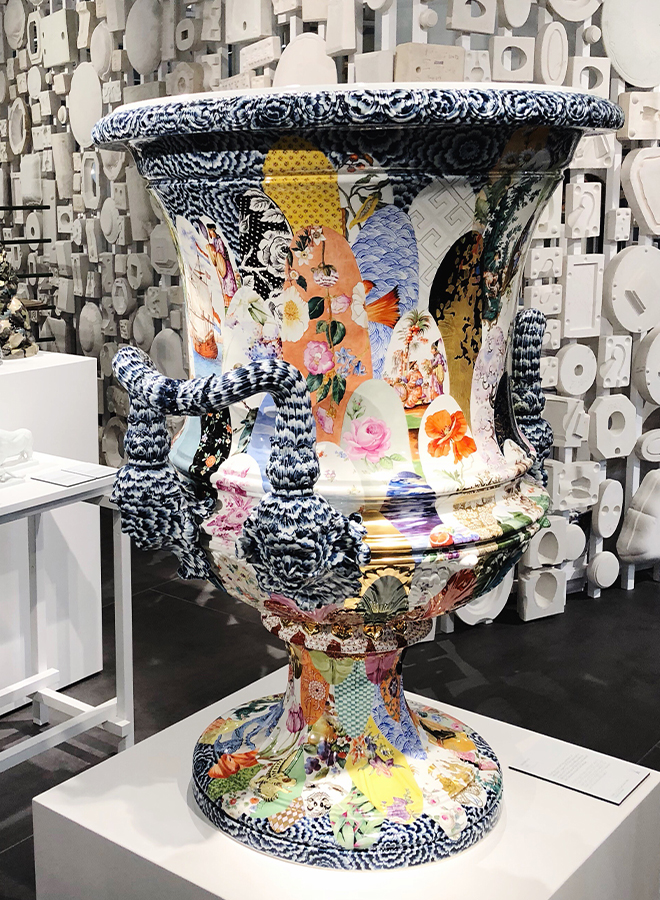 Next, I stopped by the Vista Alegre stand and witnessed craftsmanship at work as one of their master painters, Armando Grave, put finishing touches on a gorgeous serving platter. Vista Alegre, which launched in 1824, regularly collaborates with beloved designers like Christian Lacroix, Jaime Hayon, Oscar de la Renta, Marcel Wanders and dozens more. Finally, at Royal Delft, I looked on with an almost child-like curiosity as one of their master painters intricately decorated 42 tiles using only black ink. The black ink intrigued me because Royal Delft is known for blue. The painter explained that the black ink will later turn blue after the tiles have been in the kiln for 24 hours. It was also quite impressive to learn that to become a master painter at Royal Delft, an extensive in-house training course must be completed over the course of 8 years. Upon completion, the painter can then decorate and design pieces according to the very high standards of Royal Delft.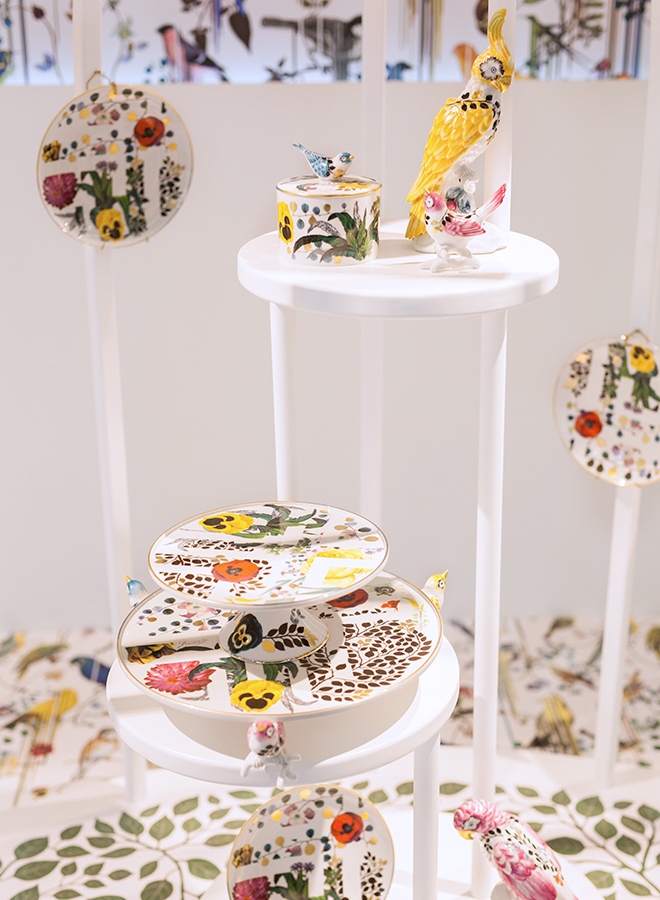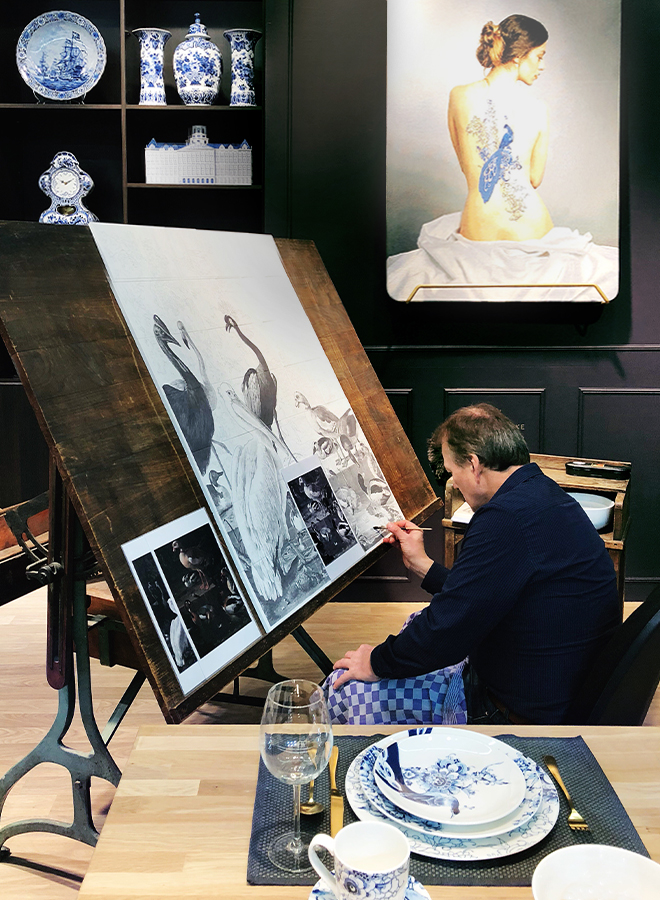 CASUAL DINING
Now that we've discussed fine dining and saw a few examples, let's talk about casual dining. In this context, I'd like to highlight that casual dining does not include take-away, disposable utensils and plates, or anything served at a fast food restaurant or a food truck. I'm referring to meals at restaurants, and at home, where your dishware, for example, is much more affordable than what you'd purchase from Vista Alegre, Royal Delft or Meissen, but covers casual pieces for the table at all price points and ranges between affordable to moderately expensive. For my trend report that follows, casual dining is in the focus.
So, what's the trend?
Hopefully, I've whet your appetite (pun intended!) for the reveal of the big tabletop trend for 2018, which I'm calling, The New Natural Table. The New Natural Table is definitely earthy and nature-inspired, warm, hearty and rustic with a focus on dining meant to engage all of the senses, not fussy, and lacking pretentiousness and intimidation. The New Natural Table encourages putting thought into collecting pieces for the tabletop that best complement the meal, from shape to size, color, pattern, and material. Handmade, or factory produced with a handmade aesthetic, is part of this trend. Inspiration is drawn from earthy and somewhat masculine colors, textures, and patterns found in nature. When you think about it, what's seen in nature is never perfect – uneven surfaces, organic shapes, small marks or bumps, these are all things that lend character and personality. They also serve to make people feel cozy and comfortable. An interesting connection that I've made is the The New Natural Table is inspired by the Scandinavian lifestyle "trend" that is seemingly effortless, cozy, welcoming and low key. This trend also incorporates elements of Eastern Asia, particularly Japan, with a slight wabi-sabi aesthetic which honors imperfection, handicraft, and simplicity.
Another connection that I've made about the The New Natural Table and to men. It's certainly true that more men are cooking today than from the generations of our parents and grandparents. I'm willing to bet that some of your favorite cookbooks and cooking shows are being authored and hosted by men. I believe that men, particularly chefs, are influencing this trend because many male chefs plate food in our favorite restaurants and desire to use serving pieces that best fit both their aesthetic and the recipes. Classic recipes are trending at the moment, and food trends directly influence tabletop trends. You can serve many of the popular comfort foods and classic dishes on dinnerware that's more down-to-earth versus fancy, delicate plates commonly seen at upscale restaurants. It's important to add that not only male chefs enjoy cooking. No way! Many men love, and take pride in, cooking at home. My mother's generation was all about women being fully responsible for meal prep, however in modern times, cooking is a shared effort. This could be another reason why casual dining has taken on a more natural, even rustic, aesthetic, because men want to plate their food on pieces to best fit their needs.
Next, let's highlight the key elements of this trend and show you some photos that I've snapped at the fair to better illustrate each of them along with a brief explanation.
Natural colors and a mix of styles
I saw lots of white and black, but also soft pastels and richer hues like rust, gray, sage, terra cotta and blue, but here I want to concentrate on colors that mimic nature. An indigo plate as blue as ocean water for serving sea bass, a sage green platter meant for a garden-fresh salad, and rust-colored bowls to create a nice contrast when serving Basmati rice. I saw lots of tinted glassware in sage, rose, and gray, for example at Ichendorf Milano. I believe we will continue to see colored glassware for a long time.
It's also trending to have a mix of different dinnerware and I'm happy to see this because it really takes the pressure off to set up the perfectly matched table. There is no need to own one complete set. That's fine for Christmas or Easter, or on a special occasion, but for regular, casual dining, we're being encouraged by a lot of brands and experts in the field to mix things up, be more playful and have fun! Mixing and matching is a way for you to express your personality and creativity. Allow yourself time to practice and experiment with this varying look. If you are having a hard time getting started, here's a top: Work with three core colors to start with, that fit the style and scheme of your room first. For instance, you can use a rust plate, an indigo blue bowl and a terra cotta-colored bread dish and because it's all the same matt or glazed surface, it can work. Next, you'll simply want to consider how to tie the various colors together visually. This can usually be accomplished through a colorful pattern on your napkins or placemats that have the same colors in it as your dishware, or if you prefer avoiding pattern altogether and keeping the look very simple, you can marry the colors of your dishware through your decorative tabletop accessories like sprigs of flowers in similar colors.
Natural and understated patterns
Concrete, wood, tree bark, leather, rock, marble, or speckled bird shell are surfaces and patterns that we know from everyday life. And I rediscovered them on the platters and bowls from DOIY Design. And they were spotted at Pordamsa, and though they're definitely intended for gastronomic dining, I've added them to this report because I would definitely use some of the pieces on my casual tabletop at home.
Handmade appeal and organic shapes
Handmade is, and has been for some time, a huge trend – yet it keeps evolving as manufacturing processes evolve. The hallmark of handmade design is the beauty in the imperfection. That's why colors and shapes are mass-produced to purposely look imperfect so that no two pieces are exactly alike. Of course, perfectly round plates will always exist, but they're sharing the spotlight with imperfect, organic shapes because people currently desire mass-produced products that look as though they came from the local ceramicist. Why not just buy handmade in the first place? Simply put, some cannot afford handmade dishware that's truly one-of-a-kind and made by hand from their favorite ceramicist. This is why they opt for collections from big labels that produce with a handmade sensibility. In fact, some companies have become near masters at creating large productions of ceramics that look handmade to meet this need.
Part of the appeal of handmade goes beyond aesthetics to incorporate how an object feels when held, which is why tactile surfaces that invite you to touch them, are all the rage. Imperfect surfaces that show visible bumps and dimples, make pieces more endearing. To further add to the tactile experience of touching a surface, some companies cleverly mix finishes, which I absolutely love, like a chalky matte bowl (on the outside) with a glazed interior, which further encourages touch and stimulates the senses. It's also more common to see glaze that isn't perfectly smooth with some rough patches, and mugs with uneven and "raw" rims that you can feel when your lips touch the surface.
Of course, handmade and handmade appeal are two totally different things. Handmade objects will be more expensive but will also be the most cherished and special pieces that you'll ever own, next to your fine dining service. Pieces with handmade appeal, or a handmade look, are imitations of authentic handmade objects and are typically priced much lower and produced in higher volume. These pieces can break and you'll never shed a tear, in fact, you can go back to where you purchased them and often replace them on the same day if the shelves are stocked. When you break something made by a ceramicist, tears will fall and often more time is involved in replacing what was broken.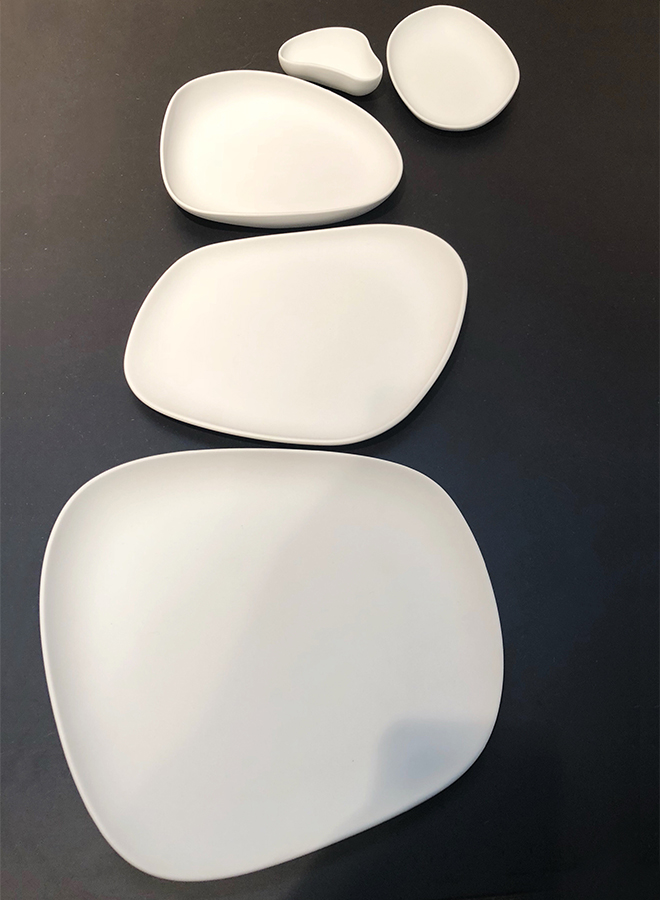 Asian influence with wooden accent
As I walked around the fair, I definitely could see that we're inspired by Eastern Asia here in Europe, along with the heavy Scandinavian influence we've had for generations. Many bowl shapes looked more like Chinese and Japanese noodle bowls than the traditional western soup bowls. Tea and coffee mugs and kettles had a definite Asian touch, some with wooden hands, and a definite wabi-sabi aesthetic.
These collections are also on-trend with how most of us are ordering at restaurants these day. You can find more à la carte menus that encourage mixing and matching instead of ordering a starter salad or soup followed by your "typical" meal with the usual protein, carb, veggie, etc. With all of these little plates and bowls on your tabletop, the possibilities for meal planning are endless.
I'm so happy that wooden accents originating from Eastern Asia forests keep popping up on western tabletops! For serving spoons to trays, boards for displaying food, bowls, small wooden dishes for tapas and tea kettles or coffee pots with wooden handles lots of exotic wood were manufactured like neem, bamboo and maple.
I am so inspired by the The New Natural Table because it's such a good mix and allows for so much personalization and flexibility. I hope that you've enjoyed my report on the Ambiente blog. If you'd like to leave a comment with your thoughts on this trend, please do – I'd enjoy reading your impressions and thoughts. Have a nice day and thank you again.