"The 'new normal' is here. The coronavirus pandemic has changed how we serve our guests. Many of these changes will be permanent." For Jesper Efferbach, founder of consulting firm Jeff&Co Group and internationally renowned green hospitality expert, the past two years have sharpened his focus on enhancing hospitality and the guest experience. In our interview, he explains strategies and interesting shifts in perception. He also offers selected exclusive restaurant tips for Copenhagen as well as insights into the royal household of Crown Princess Mary of Denmark. 
Knowledge of both sides of the table
Jesper Efferbach has acquired extensive industry knowledge "on both sides of the table" through his professional career – working first as a chef before moving into F&B management and then into sales and marketing for leading food and tableware manufacturers. He uses this expertise today to advise globally successful companies on product improvements and innovations. In addition, Jesper Efferbach not only designs glassware exclusively for the Danish royal family, but has also made a name for himself as a designer of high-quality drinking glasses. In the view of the green hospitality expert, the ongoing coronavirus pandemic has increased people's general awareness of responsibility, hygiene and sustainability: "We need more 'green' products made from regional raw materials." He even claims to have found a root that grows "everywhere in Europe" and could revolutionise many aspects of our lives.
Jesper Efferbach, as an expert in green hospitality, can you describe the essence of the guest experience?
"Basically, it's about adding value, about entertainment. When leaving a restaurant, the guest must feel happier – then they will come back. Creative designs play a significant role in a positive guest experience. The first visual impression is enormously important. How do we feel when we enter a restaurant or bar, and how are we served our drinks and food? Each guest is a critic – they taste, they smell and they feel. For the host, in turn, high-quality drinking glasses and all tableware must meet high practical requirements. For instance, a lot of the things should be stackable and everything should be easy to clean and hygienic. In addition to the aesthetics, there must also be added value here."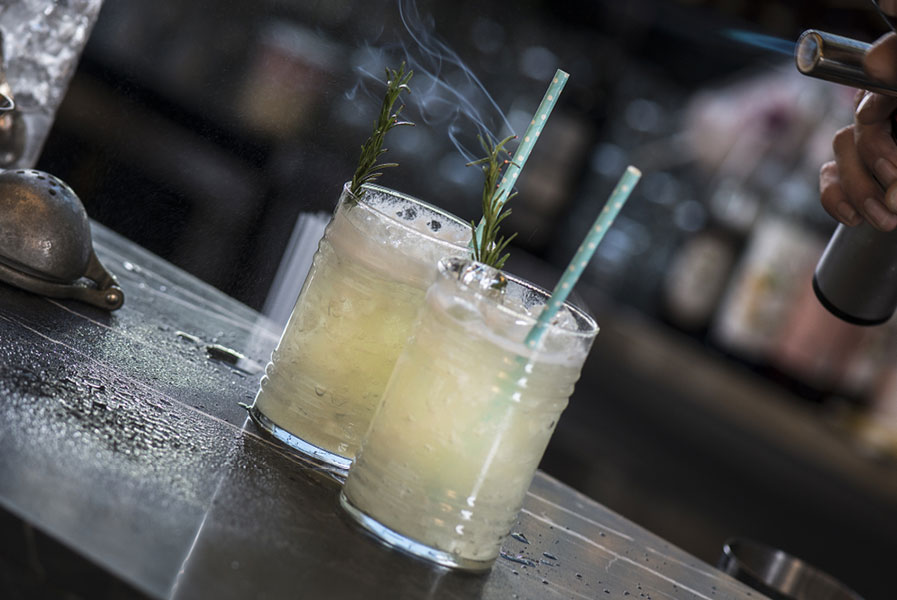 Who are your customers and what are your main areas of focus?
"We work with suppliers to both the food and non-food industry, as well as hotel and restaurant chains and cruise lines. As the Jeff&Co Group, we develop concepts – this is one of the three pillars of the company, along with design and consulting – for sustainable, environmentally friendly projects and measures that are both efficient and also profitable for our clients and partners, because in our view sustainability doesn't have to be expensive and complicated. I also cook with clients to show them more creative ways to use the tabletop that I help them select. It's about thinking outside of the box. Design is a relatively new field for us. Initially, the traditional Turkish company Pasabahce, which is one of the world's largest glass manufacturers, and Signature Glass in Israel asked me if I had any ideas for their product ranges. My guiding principle is that drinking glasses must be practical, durable and financially attractive. They must also look good and help to 'elevate' the guest experience – and therefore ultimately increase profitability. All told, more than 30 million items based on our designs are in use worldwide today. My designs are on display at EXPO in Dubai until March 2022. The glasses are also used in the lounge and bar of the Danish Business Pavilion there. There is a great deal of interest in these designs."
Your glass designs are available in both the hospitality and retail sectors. The model for your "Tin Can" drinking glasses, designed exclusively for Pasabahce, is obvious and surprisingly bold.
"Yes, it was a tin can that inspired me to create the 'Tin Can' design. I was cooking and had wet hands. I was holding a can of pineapple in my hands and the paper was peeling off. Looking at the can, it occurred to me that this shape could be also used for glassware. The shape has great creative potential."
In the "Timeless" series for the same manufacturer, classical influences are again evident.
"With the Timeless glass series, the first inspiration was the memory of my grandmother's glass cabinet, where she kept cut glass stemware. The series is based on the very traditional cut glass designs that are familiar from crystal glasses produced in Germany and the Czech Republic. But I also had in mind the interiors and drinking glasses from old black-and-white movies and the lifestyles of European royalty – in short, an interesting historical heritage. Nevertheless, these stemmed glasses are unique because of their specific sizes and design features, and offer the creative freedom of modern usage. I also plan to launch a glass series under my name in 2022 for the first time. It was planned earlier, but the current shortage of raw materials in the glass industry has somewhat delayed this launch."
What trends have you noticed in drinking glasses?
"In the past decade, we have seen the increasing popularity of classic looks in drinking glasses, inspired by the heavy glasses of the 1930s to 1950s, combined with simplicity and clean lines. At the same time, we have also noticed an increasing use of glassware for food – a trend that continues and is now being complemented by serving food in closed jam jars and preserve jars. We have also recently seen greater flexibility in wine glasses, which are designed to be suitable for different grape varieties and to bring the taste experience more strongly into the foreground. In the wake of the 'new normal', many things have been rethought – covers for drinking glasses are one example. The focus has changed: Hygiene and safety play a bigger role. The aspect of sustainability, though, will be key."
Looking at green hospitality: Disposable tableware seemed in many cases to be the only option for restaurants and cafés at the beginning of the pandemic. What is the situation today?
"Certainly, at the beginning, disposable plates and cups were used – primarily for hygiene reasons. But as the pandemic progressed, the 'green wave' gathered momentum in many countries, and a sense of responsibility for the climate footprint became more of a focus, even for fast food packaging. For instance, if companies have to use disposable containers, then they should be made from local raw materials if possible. People are now looking – and will continue to look – more closely at where materials come from. And more and more companies are becoming aware of the importance of corporate social responsibility (CSR). Let's just take the example of paper straws. The raw material, i.e. wood, comes from Canada and other densely forested countries and is sent to China to produce the straws, from where it is then shipped to Europe or North America. Can this really be sustainable? The pandemic shows us that it's not enough to buy 'green' products in Asia and then transport them thousands of kilometres. We are all becoming increasingly aware of our CO2 footprint."
Aren't there already quite a few sustainable raw materials?
"Of course, we have seen bowls made from sugar cane or palm leaves. And there is bamboo, which also grows in Europe and is very widely used. But we still have to work hard on local alternatives in order to avoid long transport routes. I myself have been working for some time on a root that grows everywhere in Europe. If you use it to make disposable tableware, it is 100 % biologically recyclable. Even if you dispose of such a cup in nature, it will completely break down within a few months. I expect to be ready for the market with it by the end of 2022."
It is a pity that you have not yet revealed the name of this miracle root. We're curious what it might be. Speaking of disposable containers – delivery and takeaway services have taken on a new significance in the upmarket restaurant sector in the wake of the coronavirus lockdown.
"These areas have really exploded. And not just for food, but also increasingly for cocktails and mixers – for house parties, for example. The old takeaways were all about selling fast food. Now it's also about delivering higher-quality food. This trend could continue."
Does your view extend even further into the future? What about the guest experience?
"The way we serve food will change. Perhaps there will be fewer buffets and more coverings when it comes to table presentation – special hoods, for example. On the restaurant table, designs with extremely high standards of hygiene will be in demand in the future. Canteens and food areas in large companies, where many people come to eat at the same time, will be reorganised spatially. And instead of large company parties, which have a long tradition in Scandinavian countries, people will plan smaller, more individual gatherings. There may be long-term restrictions, such as how many guests are allowed in an area. It's up to us to develop and implement HoReCa concepts that promote a combination of the traditional with the new safety rules and regulations. Fast food packaging will definitely become more sustainable."
Royal hospitality
Back to the present – and a change of focus from hospitality to the palace. Jesper Efferbach started working with the Danish royal family in 2004, when Crown Prince Frederik and Mary Donaldson were married: "I had the honour of designing the drinking glasses for the royal wedding. I worked with Her Majesty Queen Margrethe on the selection. She is extremely creative and is active as a painter and set designer. She designed the couple's monogram, which adorns the glasses that have been used for formal dinners ever since." The connection has apparently remained and the couple, who are very popular in Denmark, still dine at home with glasses by Jesper Efferbach. When the designer last met the Crown Princess in Helsinki, he chatted about his collaboration with the queen: "I told Crown Princess Mary that her mother-in-law had given me a lecture during the wedding preparations on the proper design of champagne glasses. Mary found the anecdote interesting and very funny." Although Efferbach's company is based far from the capital in Næstvedt, a small town in southern Zealand, the HoReCa expert often travels to Copenhagen and then drops in on his favourite restaurants.
Jesper Efferbach, can you give us your restaurant tips for Copenhagen?
"It's a psychological phenomenon: In difficult times such as these, people treat themselves to certain things in order to feel better. This means that individuals who are going out now are looking for an out-of-the-ordinary dining experience that may be more expensive. In Copenhagen, as well as in Oslo and Helsinki and even in less touristy Scandinavian cities, fine dining restaurants are currently booming, especially Michelin-starred establishments. Many diners travel specifically on weekends for an exceptional 'nordic cooking' experience and stay overnight in the city. Gastronomy tourism has grown significantly in Northern Europe. Some of the world's best Michelin-starred restaurants are based in Copenhagen. We have the long-established Norma as well as the Alchemist and Rasmus Kofoed's 3-star Geranium Restaurant – for me, he is one of the world's top 3 chefs. And all these top establishments offer a perfectly orchestrated, experimental guest experience.
An evening menu at the Alchemist can include up to 50 courses served in a variety of locations, including a spectacular dome reminiscent of a planetarium. There's also a skilful use of scents that are deliberately added to the space as part of a very unusual dining experience – that is truly unique."
HoReCa 2022 and beyond: Which themes and aspects will be important?
"Even after the pandemic, the emphasis will continue to be on social and environmental issues. For the catering and hotel industry, there will be a greater concentration on profile enhancement, which means a stronger focus on buying the 'right' tableware, on interior design, on an individual concept and on creativity in terms of portions and presentation. All this also means that more knowledgeable and well-trained staff will be needed. In short, 2022 will be even more about creativity and knowledge, and even more about sustainability and environmental friendliness in terms of both organisations and products. For a long time, the 'green wave' was seen as too costly, but this view has now changed. Sustainability does not have to be expensive. Part of the 'new normal' is also the fact that trends are changing much faster and influences are coming from many more directions. The 'old' days, as they were before the pandemic, are never coming back for the HoReCa sector, and we have to realise that."
Title: Jesper Efferbach, Jeff&Co Group