Premium Tabletop is the ideal place to discover new treasures. High-end tablescaping has always sought an elegant stage: Now, though, with the new hunger for experiences, the fine dining trend is changing course – with consequences for the HoReCa segment, which specialises in luxurious tableware and the finest glassware. "White is making a comeback" is just one of the surprises we learned from manufacturers when we asked them about the latest on-trend themes.
"Fine dining is out. Casual fine dining is in!"
Sven Bodry, Sales Manager Europe at ceramics specialist RAK from the United Arab Emirates, sums up the change in a nutshell. "Instead of the traditional dining service, we are seeing today a diverse mix of individual elements that emphasise the individualist character of gastronomy," explains Bodry. He calls this trend 'patchwork porcelain' and it's something that star-rated restaurants have already discovered for themselves. Most fine dining restaurants are moving away from classic dining services and looking for combinability, versatility and distinctive features when buying tableware and glassware – elements that are also essential in the creation of an attractive menu.
Almost everything is permitted in this sophisticated mix 'n' match world. Why not, for instance, serve soup in a teacup. What's vital is that the quality of the tableware must be absolutely right – uniform mass-produced objects are out. The best example of this change is the 3 Michelin-starred restaurant of cooking legend Paul Bocuse. "After supplying his brasseries for over ten years, RAK was also able to re-equip his Michelin-star restaurant in 2019," says Sven Bodry.
Let's share!
As the world comes closer together in terms of food experiences, the modern guest wants to see different cultures presented in parallel. Fine dining sharing experiments offer a breath of fresh air here. With a mix of large and small bowls as well as an array of multifunctional plates and platters you can serve a wide variety of food and invite people to the table, making the meal an intense communal experience. These gourmet snacks naturally encourage conversation and interaction between guests, creating a convivial atmosphere. The old-established habits of a Michelin-star restaurant are currently being questioned. Paul Ambroise Saunier of French porcelain manufacturer Revol, who counts the New York luxury hotel Ritz Carlton Central Park among his select clientele, highlights something that many young people in particular value: "Millennials are interested in authenticity, they want products that have a story to tell. They also want to know where the materials come from. In our case, there is a special black clay that we produce locally using centuries-old traditional methods." In the future, he sees tableware as being part of a large experimental laboratory, "similar to a performance stage for artists". No less demanding than millennials are foodies at big hotel parties. Here, mix-and-match tableware can be used to playfully unite people from all over the world and their love of good food.
The latest ideas can be seen at Ambiente 2020, for example the successful Junto series from manufacturer Rosenthal. "Here, the restaurateur and hotelier will find a mix of porcelain and stoneware. The diverse range of items, colours and materials offer many possible combinations and leave room for creativity. This not only makes the product range interesting for banquets, it also addresses the on-trend themes of sharing, snacking and bowl food," explains Rosenthal press spokesperson Iris Reichstein.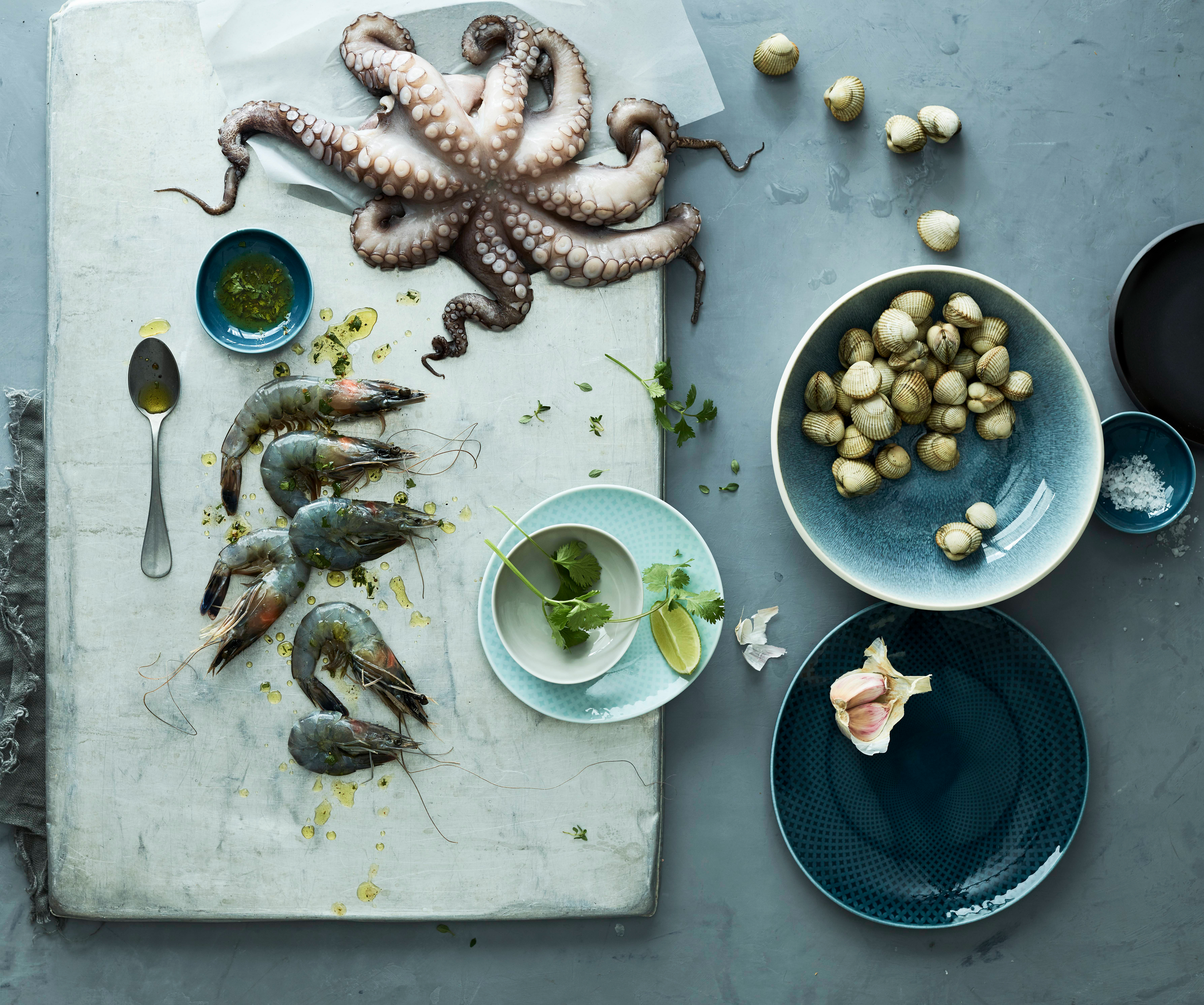 Special effects
Manufacturers are in no doubt about the actual trigger for the new tablescaping trend in fine dining: Guests are looking for ever more sophisticated 'gastrotainment' – unforgettable experiences that create a sense of community among diners. The omnipresent 'appetite for experiences' is always demanding that certain something. This is particularly evident in premium catering, which is celebrating luxury like never before. "Fireworks, fog machines and sophisticated cloches are in great demand to round off the overall emotional experience – particularly in Dubai and in countries where magnificent presentations generally go down really well. As a result, dining services in the catering sector are becoming increasingly like fine dining," explains Nikolan Dietz, marketing manager at Zieher, which supplies 5-star hotels and top restaurants in more than 90 countries with uniquely opulent tabletop and buffet systems. The search for new, more striking ideas is leading the company to come up with innovative material combinations: for example, seashells coated with food-safe synthetic resin for an authentic seafood presentation. "It's the little things that count – for instance, gilding or that certain something. At the same time, the catering and hotel industries want ease of handling and the systems must not take up too much storage space." Dietz believes that, with the increasing demand of guests for special effects that use all technological possibilities, we may have dishes floating above a magnetic field and equipped with LED effects at events or in restaurants.
White – but with more variety
While white porcelain has long since relinquished its position as the guardian of traditional values, pure white items are now increasingly used in the sphere of fine dining. The decisive criterion for their inclusion is that they must be able to be used and combined in a variety of ways. The classic all-white service – from starter plate to sauce boat to dessert bowl – has been consigned to history. These days, we are seeing a variety of contemporary white elements that demonstrate individuality. According to Jan Dibbern, managing director of porcelain manufacturer Dibbern, the reason for this renaissance is to be found in the gradual decline of long-standing trends in ceramics: "They have become over-used and are making room for new trends."
In Northern Europe, where white porcelain has always been very popular, the upcoming white revival is likely to fall on fertile soil. "There is also lots of white tableware in Asia, but it is very fine and filigree and has much smaller dimensions than we are used to in Europe," says Gabriele Schupp, head of the Tableware division at Villeroy & Boch. The Goldener Hirsch luxury hotel in Salzburg is supplied by Villeroy & Boch and, since its recent modernisation, now serves food on brilliant-white bone china, thus positioning itself as a trendsetter and differentiating itself from its competitors.
Crystal-clear success
When the bar glasses in the Michelin-starred Le Jules Verne restaurant inside the Eiffel Tower start to glow atmospherically in the evening, it's all down to the high-end cut-glass design of the Spiegelau brand. The Perfect Serve Collection by Stephan Hinz appeals to all the senses, from the brilliant appearance to the pleasant feel in the hand to the tinkling sound of the crystal. Christina Bauer, Marketing Manager of Bavarian glass specialist Spiegelau, describes the expensive bar glasses at this Parisian highspot: "Stephan Hinz, internationally award-winning bartender and specialist author of bar literature, has used his expertise to develop this sophisticated collection of glasses for us. He knows the demands of a modern bar.
Our customers, which include The Shanghai Edition, one of the best luxury accommodations in the city, and the Lufthansa First Class Lounge at Munich Airport, are after elegance, glamour and longevity. Current trends also play a role. In terms of wine glasses, the demand is still for very thin rims, and our new, hand-blown Highline series takes this into account. The advantage in handling is that the use of reverse-osmosis glass dishwashers eliminates the need for hand polishing," says Christina Bauer.
Riedel Glas from Austria sees a strong increase in the demand for cocktail glasses in the luxury segment, as does Nikolan Dietz from Zieher who observes: "In catering and buffets, people try to outdo each other in terms of event luxury – having several front-of-house professionals shaking cocktails is a favourite. Whatever it is, it has to be extraordinary and attract attention, that's the trend."
Silver to go
Villa Rothschild in Königstein im Taunus. Aqua in Wolfsburg. The Peninsula in Tokyo. Grill 79 above the roofs of Beijing. The MS Europa 2. The common theme at these and innumerable other culinary jewels is their commitment to the art of German silver cutlery making from the Robbe & Berking company. In top-class restaurants, fine silver cutlery is of course much more than just a tool for eating. Even though silver may have lost ground to stainless steel cutlery in recent years, it still makes an important statement. For the Flensburg manufactory, this has been a wake-up call to rethink its product range and try something fresh and bold. It therefore decided to join forces with a renowned caviar brand and a champagne producer to create high-class food trucks.
Taking as its theme 'Street food on a silver platter', a fleet of these 'Airstream' trucks has been rolling through Germany and Austria ever since offering gourmet delights and luxurious fine dining across generations on exclusive rural excursions, at sailing regattas (Robbe & Berking is also a boat builder) as well as at golf and polo tournaments. Hand-made cutlery from the 'Riva' collection is also present on these pop-up tours. Guests are able to satisfy their hunger for experience and enjoy something very special – who would have thought you'd find silver spoons on the trucks' food counters? Maybe you're thinking it's all a bit too way out. Not, if you take a look around the new generation of European luxury hotels, where guests want laidback luxury – and they don't just mean gold-plated taps, they are after top-class, authentic hospitality.
The new Intercontinental Hôtel Dieu in Lyon, a 5-star hotel located amidst magnificent historical architecture, offers this contemporary culture of hospitality. The modern hotel complex blends seamlessly into the cultural heritage of the city. Inside, it combines maximum simplicity with maximum luxury, with delicate Lyon silks and a contemporary design. In the hotel's Épona restaurant, traditional quenelles (high-class local dumplings) are served on simple but elegant Revol plates. And there's silver cutlery here, too.
How the world eats
Responding to global lifestyles is of paramount importance in the high-end gastronomy and HoReCa industry. The business concepts here are ultimately based on making people happy when they are away from home. A marked trend towards intelligent individualisation and personalisation is counteracting the threatening grip of uniformity. Engraved and personalised plates have been a common sight in grand hotels for over a hundred years: They are often now taken for granted, though, and appear slightly outdated. Tableware that reflects the eating habits of the region or country is a key element of the new trend. Additions to the standard product range are essential in China, Korea and the Arab world. Through its international offices and close cooperation with the restaurant industry and producers, Riedel recognised at a very early stage the market-specific differences in terms of requirements. A good example of this is the US and Japanese markets, where the dimensions and volumes of glasses are very different.
The manufacturers we surveyed are responding to the significant strengthening of the luxury and premium segment in the HoReCa sector in a highly flexible, proactive and open manner. They see their professional customers, i.e. internationally renowned HoReCa businesses and luxury residences, as high-ranking showcases in which the tabletop is an important component of the overall experience. The trend forecast for Ambiente 2020 is for extravagant tableware that offers even more flexibility in terms of use. Many plates and bowls pay homage to traditional techniques from all over the world. With the Kintzoo collection, for example, RAK is metaphorically bowing to the Japanese tradition of repairing valuable ceramics with gold and silver lacquer.
Manufacturers are also seeing something else happening: In countries where dishes are often presented to diners with elaborate ceremony, they tend to be open to new ideas that might leave people from other countries speechless. This observation is relevant for producers worldwide. Gabriele Schupp of Villeroy & Boch has seen it: "In Spain, some food is no longer served on plates or bowls, but rather presented in flowerpots or hung on clothes lines, for example." We can't wait to see what else might be around the corner in casual fine dining.