"You say you want a revolution …" sang the Beatles in 1968. They were talking about society, but we're talking about a culinary revolution. Coffee is changing – though nobody's singing about it just yet. Coffee is no longer simply a caffeinated hot drink: it comes in new and exciting varieties. And as the chorus of the song says: "Don't you know it's going to be alright".
Best served cold
First there's cold coffee. If you're thinking of brewed coffee left to get cold, you're way off the mark. Cold coffee doesn't get cold, because it was never hot. How can that even work, you ask? Doesn't hot water need to pass through the coffee grounds in order to release the flavour? Not necessarily. The trick is to use time in place of heat. In other words, you leave the coffee in contact with the water for longer, so it takes longer for your beverage to develop its typically sophisticated flavour.
The flavour unfolds gradually
There are two main methods: cold drip and cold brew. Cold drip coffee was made by the Dutch in their East Asian colonies as early as the 17th century, which is why it's sometimes known as 'Dutch coffee'. Ice cold water is dripped onto freshly ground coffee over several hours. This releases the flavours slowly – the experts refer to this as extraction – which creates a complex, flavourful concentrate which is then 'let down' with water to make your drink. Special cold drip equipment means you don't need to drip the cold water onto the coffee yourself: quite a relief seeing as extraction can take up to 12 hours! Valves control the speed of dripping, and the glass bulb or cylinder containers often look attractively futuristic.
Cold brew coffee is prepared differently, either using one of the wonderfully-shaped new gadgets, often with their own tap, or 'by hand'. Without a machine, simply pour cold, filtered water into a container with coarsely ground coffee. Stir the liquid thoroughly, cover and leave at room temperature, preferably overnight. Eric Wolf, a German master barista, recommends 15 hours so the cold brew can develop its familiar flavour: "The result is a delicate, fruity note." The liquid is then poured through a sieve. Cold brew takes a little more coffee than cold drip, and the resulting flavour is a little less intense. Cold coffee in general is less acidic, and can be kept in the fridge for up to 2 weeks. The great news is that you can pour the cold coffee into an ice cube tray and freeze it. Then it's really quick and easy to prepare, you just pour milk onto the dark coffee cubes.
Creative baristas
Both coffee-making processes produce a thoroughly refreshing drink – a great alternative to conventional coffee or affogato al caffè on a hot summer's day. Simply pour water onto your cold coffee and serve in an attractive glass – Mason jars are a current favourite. Purists take their drinks straight or on the rocks. This really brings out the unexpected subtle notes of cold coffee flavour. Some varieties have a herby taste, and others taste of forest fruits. The Californian manufacturer Blue Bottle, at the forefront of the coffee speciality trend, makes a cold coffee that tastes of plums.
Both cold brew and cold drip are ripe for experimentation. Who can mix the most refreshing drink? Why not add a shot of freshly squeezed lemon, or make a long drink with grapefruit or elderberry juice? Eric Wolf recommends adding tonic water. Depending what time of day or night it is, you might add frothy milk or gin, rum or Grand Marnier to your coffee cocktail. You can also get a great visual effect by mixing ice cubes and tonic in a glass and slowly adding your cold brew on top. This creates marvellous layers of different colours.
Shaken or stirred?
Cold coffee isn't the only innovation we uncovered in the wonderful world of caffeine. The way coffee is prepared is bringing it closer to tea – enter the coffee stick. You fill it with coffee grounds, like a tea ball infuser. Just add hot water, and conjure up a good cup of coffee in seconds.
Intrepid coffee explorers who love their latte macchiato simply must try a goth latte, the latest, greatest drink in Australia and the UK. Yes, the froth on top is black! But what is it, and why? Activated charcoal is added to the milk, which makes it that colour. Although goths aren't known for their healthy lifestyles, this drink has a beneficial effect as the tiny pores in the charcoal trap toxins and thus help to draw them out of the body.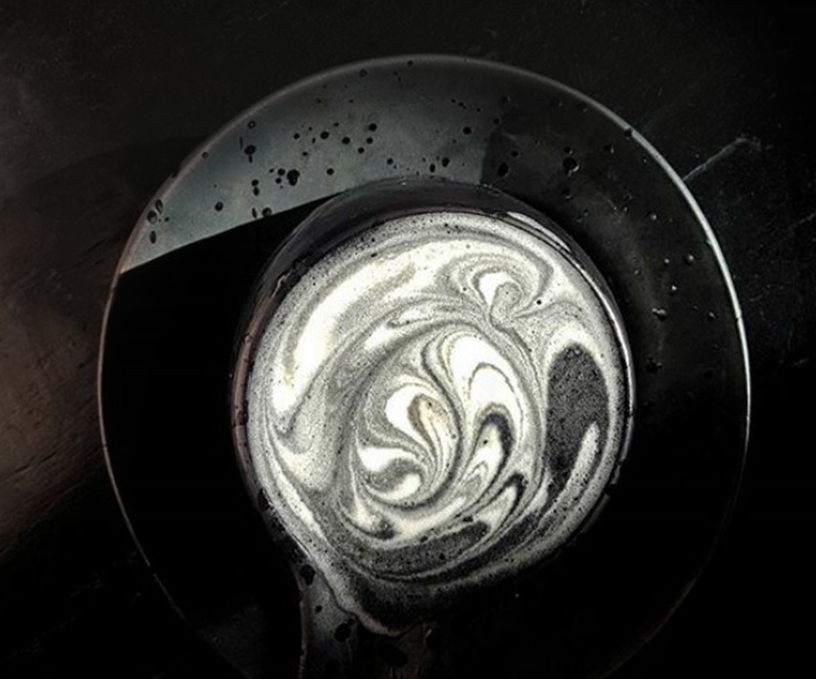 Lucky locations
If you're tempted to explore all these innovations in coffee, your best bet is to visit a specialist café. They're springing up all over Germany to meet the growing demand for quality coffee and creative experimentation. The website Europeancoffeetrip lists nine such locations in Frankfurt alone. Here, you can relax and try new tastes before taking the knowledge back home and creating your own coffee specialty. Just hearing their names – Kaffee Expressionist, Oheim or The Holy Cross Brewing Society – whets the appetite.
'Look, smell, taste': Coffee festivals
The existence of coffee festivals in Amsterdam, London, New York, Vienna and elsewhere shows how established this growing trend is internationally. The figures speak for themselves: more than 30,000 visitors enjoyed the latest London extravaganza. These events are an El Dorado for coffee lovers. They can take part in tastings and workshops and attend expert talks. Master baristas move beyond drawing hearts and leaves on coffee froth: some etch out butterflies and fine patterns, while others use coffee to paint whole pictures. And of course, visitors can view the latest equipment, while listening to live music. The mood is cool and upbeat, reminiscent of that other Beatles classic: 'Come Together'.
Other posts for coffee lovers