Creative brewers across the globe are contributing to the rejuvenation of their own traditional national and regional beer cultures. Always in search of new ingredients and brewing processes, a huge craft beer scene has emerged that is livelier today than ever before. These handcrafted beers are accompanied by beer glasses that accentuate multi-sensory perception and set new standards in beer tasting. Bright upmarket beer bars serving superior draught and bottled beers have become a real lifestyle phenomenon. We present some of the most attractive examples and also give some great ideas for original fun beer gifts.
Traditional beer glasses
One beer, one beer glass. Every traditional beer should have its own glass: be it the tall wheat beer glass from Bohemia Cristal, the slim 'Stange' glass for light low-carbonated beers from Etna Glass, or the belly-shaped tulip glass from Stölzle Lausitz for Pilsner beer.
In Britain and Australia, people have always enjoyed the taste of ale, lager, porter and stout from a wide pint glass – for example from glass expert Lav – in which the carbon dioxide rises vertically from the centre of the glass like a string of pearls. And at parties and beer gardens in Bavaria, there is no substitute for the thick-walled beer mug or stein, which holds exactly one litre of the amber nectar. The one-litre beer glass in the contemporary linear design of Stölzle Oberglas also features a clever indentation that makes it easier to grasp. The inverse-conical Willibecher, a standard German glass since 1954 and available from Ritzenhoff & Breker, for example, is indispensable at any large public event. With its thin walls, it cools down more quickly after rinsing than other thicker types of beer glass – a distinct advantage when you have lots of guests waiting to be served.
Time for new beer bars
"Stay with the beer. Beer is continuous blood. A continuous lover." These words written in the 1970s by American author Charles Bukowski still hold true today. A similar passion can be felt today in new beer bars like the Berlin "BRLO BRWHOUSE". This hotspot, built by the renowned GRAFT architects from 38 used overseas containers from all over the world, has everything that belongs to the new beer bar culture: its own brewery, restaurant and bar with trendy interior design. In many places, beer culture is still equated with the quaint, ponderous cosiness of bygone days. The beer bars of the craft beer movement, though, have successfully removed this heavy visual feel with the creation of bold, architectural spaces with eye-catchingly elegant interiors. The beer bar "Punkraft" has brought the excitingly rebellious spirit of craft beer to Kiev. Housed in a vaulted cellar, it features the aesthetics of industrial beer production with its stainless steel, grilles and the row of neon tubes above the bar. Despite the industrial feel, there is a sense of cosiness with the brick vaults and wooden benches. More and more beer bars and breweries in Germany are following the philosophy of rejuvenation while staying true to the original. One example is about to open not far from Frankfurt in the university town of Giessen. Located in a renovated, castle-like post office building dating from 1863, the traditional Bavarian brewery Benediktiner Weissbräu is launching a pilot project – a new-generation "Weissbräuhaus" complete with its own in-house bakery. A monastic-puristically conceived room concept with light, southern German woods meets industrial charm – the heritage of the listed building.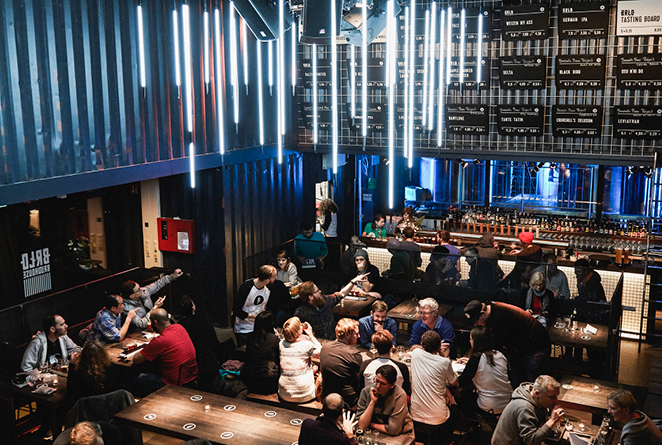 Craft beer: new beer glasses for more flavour
The new enhanced shape of 'sensory' beer glasses entice even more flavour out of the beer. These glasses are particularly popular for use with the numerous types of craft beer that are now available. They deliver the beer more specifically and almost simultaneously to all areas of the back of the tongue, which are particularly sensitive to bitter tastes, thus creating a more complex, fuller and fresher sensation in the mouth. What's more, these glasses are more comfortable to hold than many traditional versions and fit perfectly with the design ambience of the stylish new beer bars and micro-breweries.
Developed by manufacturers in collaboration with craft beer master brewers and beer industry specialists, the current generation of craft beer glasses is at first glance reminiscent of elegant wine glasses or goblets: Rosenthal skilfully emphasises the typical upward taper, which results in a stronger concentration of aromas without excessive carbon dioxide loss. Made from cut crystal glass, the dishwasher-safe beer glasses from Nachtmann have a distinctly aristocratic feel. They offer the same level of sensory experience as the somewhat simpler stout glasses that are available on the market. Zwiesel manufactures high-quality glasses for stout beer that guarantee optimal delivery of aromas to the nose and direct transfer of the beer to the middle of the palate thanks to the conical 'chimney' and wide rim. Bottle openers have now also gone upmarket: this ingeniously curved version from Alessi can also be used as an elegant ladies' belt buckle.
Shopping and beer tasting
The founders of the craft brewery and distillery "The Depot" in Reno/Nevada, where modern reduced design meets industrial chic, have also moved away from the image of the gloomy pub. Shopping and drinking beer? Craft beer pioneers such as the Milanese beer bar "Birrificio Italiano" (title picture, foto: Alberto Strada), whose founders started out with an artisanal brewery back in 1996, have shown the way. In this design-award-winning beer bar/restaurant, the brewed beer is also available to take home. Another insider tip – this time in Copenhagen, a major European centre of craft beer culture – is "Mikkeller & Friends". After enjoying your freshly poured beer in the cosy, clean ambience inspired by Nordic forests, you can buy a few liquid souvenirs in the beer shop of craft beer brewer Mikkel Borg Bjergsø next door. In Frankfurt, by the way, the beer bar "Naiv" works on the same principle – with draught craft beer, restaurant, beer shop and interesting beer tastings.
Non-alcoholic beer bars are on trend
Seriously, a beer bar with no alcohol? That's right. There are already a few of them, for instance the "Zeroliq" in Berlin and "BrewDog AF" in London run by Scottish craft beer brewery BrewDog. These establishments are not random one-offs, they're part of an interesting new trend for non-alcoholic beers, spirits and cocktails. Non-alcoholic and vegan craft beers are becoming increasingly popular, encouraged by an increasing move towards mindfulness and sustainability. The young alcohol-free generation is setting standards – and in the near future may fundamentally change the offer of many beer bars worldwide. All in all, it is fascinating to see the impressive range of beer bars the craft beer movement has so far produced, whether with or – now increasingly – without alcohol. The extravagant and sensual interior design of these bars finally places beer in the premier league of exclusive and mindful gastronomy.
Beer gadgets for barbecue and garden
On the subject of beer gadgets – there is a demand for sturdy products for use when on the go and outdoors. The robust leather apron with integrated beer bottle holster from Xapron goes down well with lovers of the open air. It's ideal when you need both hands free, for example when turning steaks on the barbecue – or even when mowing the lawn. The Höfats 'beer box' can not only be used to hold a generous supply of beer bottles, it also functions as a fire basket or as a seat for a touch of campfire romance in the evening. The beer bottle is opened with the wooden bottle opener designed by Areaware, which lets a bent nail do the work. For large garden parties, we recommend the CellarDine bottle opener with internal magnet that catches the cap for easy disposal. Finally, you can use some of your beer to deglaze the barbecue food or find ideas in one of the new beer recipe books.
Beer and games – the best beer gifts
What could be better for the beer lovers in your life than beer gifts. There are lots of creative and amusing items to delight even the person who has everything. At Luckies of London you'll find a wealth of unusual ideas – from beer soap in a beer glass and beer glass puzzles to socks in a beer can. Glasses from traditional centuries-old drinking games are still a great way of livening up any party. For instance, if you don't use the boot glass or yard beer glass from Final Touch correctly, you're in danger of getting soaked.
Complete beer-making starter kits are currently very popular. It couldn't be simpler – with the 5-litre Braufässchen kit, even beginners should be able to brew their own beer in just seven days. There are lots of exotic options to choose from with names like Salty Gose, Dark with Cherry and Indian Pale Ale.